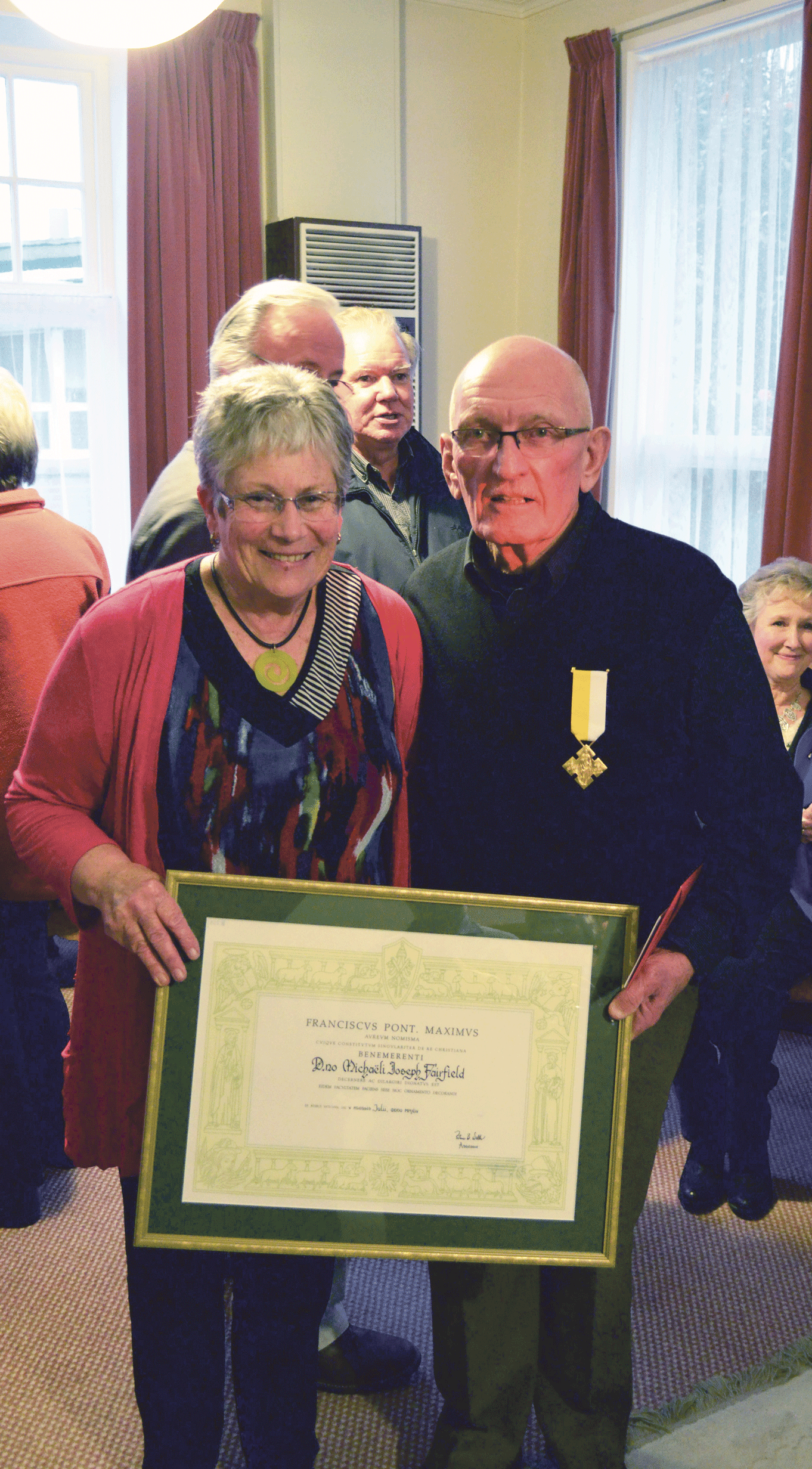 November 2014
News
Lorraine Wilson
At Sunday Mass in St Martin de Porres Church in Lower Hutt, 28 September 2014, Mike Fairfield received the Benemerenti Papal Award for service to the Catholic Church. Mike and his wife Marie were recognised for 42 years enormous effort and support they have given to the Catholic Church.
Mike has been a leader in music ministry at Our Lady of Grace in Heretaunga Upper Hutt, St Mary's parish in Rotorua, the music team at Our Lady of the Rosary in the Hutt Valley, and has led a group at Ss Peter and Paul in Lower Hutt.
Mike was also General Manager of the Archdiocese Development Fund for 17 years and was involved in fundraising for the seminary. He led Planned Giving campaigns in the Wellington, Palmerston North and Hamilton dioceses.
His methodology was sold to dioceses in Australia. Mike is a great supporter of Catholic schools and was on the St Bernard's College Lower Hutt Board of Trustees, and coach of many rugby teams.
Letters of recommendation were received and endorsed by Archbishop John Dew who celebrated the Mass. Concelebrating were Frs David Orange, Pat McCullough, Bruce England and Andrew Kim. In his homily Archbishop John acknowledged the important role Mike's wife Marie played in supporting him and looking after their family. Mike and Marie's children, grandchildren, siblings, and friends were present and joined in the supper and gathering in the presbytery afterwards.
Benemerenti loosely translates to 'well done'. Well done Mike and Marie we are proud of you.
Lorraine Wilson is Mike and Marie Fairfield's daughter.