World News
1 November 2012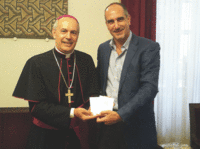 Calling on the Church in the Middle East to transform words into action, Pope Benedict XVI made a pastoral visit to Lebanon in September.
During the visit, the pope signed a Post-Synodal Apostolic Exhoration on the Church in the Middle East.
The Bible Society produced 200,000 special edition copies of the New Testament to mark the occasion. These carried logos of the Pope's visit, the Vatican and the Bible Society with Pope Benedict's photo and theme for the visit, 'My peace I give to you' [John 14:27].
The Sat-7 Christian Satellite television channel gave live coverage to the Pope's arrival at Beirut International Airport and the Bible Society's general secretary Dr Mike Bassous was invited to give the Bible Society's perspective on the visit at this crucial time in the Middle East and the 'Arab Spring'.
'We must understand the significance of this papal visit as a message to all Christians in the Middle East,' said Dr Bassous, 'that our presence and witness in this troubled region is needed and crucial.'
The following day copies of the New Testament were distributed during a youth gathering at the Maronite Patriarchate in Bkerke.
The young people held the books aloft as the Maronite Church's youth coordinator Fr Toufic Bou Hadeer led them in pledging to uphold the Word of God and read it daily.
'This is the most precious gift we have received from this papal visit,' said one young woman.
On Sunday morning some 350,000 people gathered for Mass in the seafront area of Beirut where the remaining copies were handed out.
As Pope Benedict left on Sunday night he repeated the Apostolic Exhortation to transform words into action.
An electronic version of this special New Testament edition was made available for free download on Bible Society and papal-visit websites.
Click here for news of a school resource that examines issues in the Middle East, and here for a report on the only Palestinian Christian university.
Image: The apostolic nuncio in Lebanon, Mgr Gabriel Caccia, with Bible Society general secretary Dr Mike Bassous.