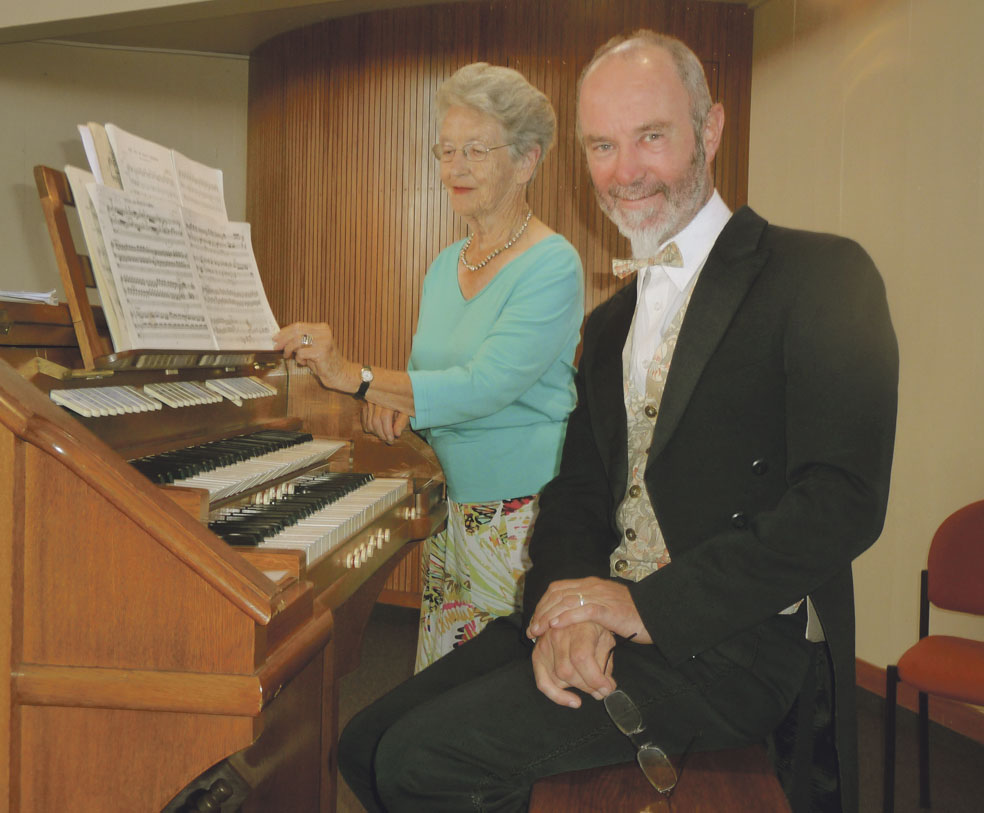 June 2014
Review
Sue Seconi
Parishioners at St Mary's Whanganui were given a rare treat in March when renowned organist, historian and composer Ron Newton, gave a recital while he was engaged in restoring the organ as part of the earthquake-strengthening programme.
St Mary's music director Joan Whelan seized the chance to invite Mr Newton who was working on the organ in the Jane Winstone Ryman Health Care Chapel, once Sacred Heart College Chapel.
]Mr Newton praised the magnificent tone of the St Mary's Church organ, crafted in London by JC Bishop's organ builders more than 150 years ago.
'These instruments were built as sweet and gentle accompaniments to church choirs. This organ is quite distinct because it has a good variety of loud and soft stops'.
Some of the organ's original pipe work has survived the move from the now demolished church in Victoria Avenue to the new St Mary's Church in Guyton Street.
The programme started with two of the most popular pieces for organ, Bach's 'Jesu Joy of Man's Desiring' and 'Sheep May Safely Graze'.
Of the world's greatest musicians, Mr Newton said, Johann Sebastian Bach wrote the most for the pipe organ during his time as director of music and royal court composer in Weimar and Leipzig Germany, in the early 18th century.
Currently curator of the New Zealand Organ Museum based at the Oamaru Railway Station and the director of the New Zealand Organ Manufactory, Mr Newton's recital repertoire also included works from New Zealand composers John Barnett and Douglas Lilburn. Of particular delight during the 90-minute concert was his own composition, the 'Milner March'.
This was dedicated to the headmaster of Waitaki Boys High School, Frank Milner, a noted educationalist when Douglas Lilburn was a student. Even though Lilburn was born in Turakina south of Whanganui, his natural musical giftedness was nurtured in this Oamaru college. Awarded the Order of Merit in 1988, Lilburn has become known as the 'grandfather' of New Zealand music.
Mr Newton services and tunes nearly a third of all pipe organs in the country from the Bay of Islands to Dunedin. His PhD thesis centred on early pipe organ building in New Zealand and proved a valuable record following the Christchurch earthquake which damaged a number of organs in the city.
Money raised from his recitals is always shared with the church where he played and a charity the parish nominates after he has paid his expenses. Parish priest of St Mary's Fr Brian Carmine directed that the profits go to the parish's Monday morning friendship meal.