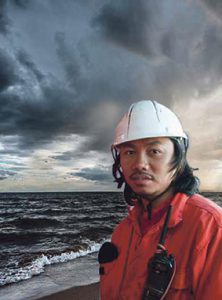 WelCom July 2017: On 9 July, Sea Sunday is celebrated in the Catholic and Anglican Churches in New Zealand. Parishes will pray for seafarers who take our produce for exports and bring us nearly every thing we use in our lives from the moment we get up in the morning.
The New Zealand Government signed up with 84 countries to the 2006 UN Maritime Labour Convention in 2016 to gradually but surely improve the working conditions of those at sea and the health of the oceans on which we all depend.
The Catholic Apostleship of the Sea works with the Anglican Mission to Seafarers in Wellington and Napier and we are looking to do the same in New Plymouth. The maritime industry is changing so rapidly that we have had to become more resilient and professional to serve seafarers in a more effective way. Since ship turnover is now so rapid, we have had to change to ship visiting rather than running seafaring centres. More modern ships now have Wi-Fi so money transfers and communications with families can take place anywhere. More ship visitors are being trained, especially in Wellington where the seafaring centre down on Aotea Quay was completely destroyed by the Kaikōura Earthquake last year. We still offer a warm welcome and hospitality to seafarers but with the Maritime Labour Convention we are also becoming observers, whistleblowers and advocates.
The work is immensely relevant and rewarding. If you are able to help us as volunteers or support us by praying for seafarers, look for the promotional material on Sea Sunday or contact the national director on jeffdrane@aos.org.nz or call 027 492-0250. Go online to aos.org.nz for more information.
Fr Jeff Drane sm