2 August 2012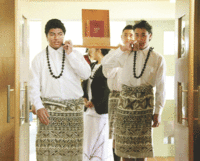 St Anthony's parish Seatoun celebrated the 60th birthday of the church on July 1 with a Mass which Archbishop John Dew presided over and a morning tea with a cupcake cake which parishioners and friends made.
Frs Finau Sanele (priest in sacramental ministry) and parish administrator Kevin Purcell with former parish priests Mgr John Carde (2001-2008), Frs Michael Stieller (1984-1992), Michael Sweere (1967-1972), Brian Fletcher (1972 – Youth Ministry) concelebrated with Archbishop John. Deacon Andrew Kim and seminarians Douglas Shepherd and Dennis Nacorda were also there.
Guests included St Anthony's principal Raewyn Watson, staff members Daniel Salter and Sarah McIntosh, BOT chairperson Catriona Watson, Jude Atkins whose grandfather and father built the church and many past and present parishioners.
A feature of the celebrations was the presence of the Samoan Community whose members have been part of the parish community for the past 30 years, making St Anthony's a home away from home for its members.
Masses were celebrated in the eastern suburbs from 1899 but it was not until 1919 that Seatoun was separated from Newtown when the Kilbirnie parish was established to cover both Miramar and Seatoun.
Seatoun served as the Mass centre for both areas until increasing numbers made it necessary to build a new building to act as a church and school. And so it was at this time St Anthony's School began.
Miramar residents continued to attend Mass at Seatoun until the Holy Cross Church was built. The first Masses were celebrated there on October 24, 1926. In 1936 Miramar and Seatoun separated from Kilbirnie to form a single parish. Two years later a building fund was established for St Anthony's Church. But it wasn't until 1951 that the church building started at a cost of £12,000.
Designed by Mr John Standish and built by A V Swanson and Sons, the church is inspired by Scandinavian design with its steep pitched roof and Wayside Cross in front. The Church was opened in 1952 and Seatoun became a parish in its own right two years later.
Image: Antonio Lemalu, John Tavoi, (back) and Michael Tua process into Mass with the Word.