Sitting before me on the computer screen is a scene of Wanaka. What a serene and marvellous place! It's beautiful when the summer sun burns the hills and the lake is alive with people and it's vibrant in winter too when the snow comes down low and the skiers arrive in force. We were so lucky to have nearly a week there.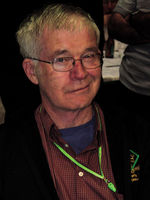 I headed south with two parishioners to see the sights and to visit people. I have two sisters and a brother in Blenheim so that is always a stopping point.
I figure that it's nearly 50 years since I left Marlborough but it still feels like home. I feel it each time I drive off the ferry heading south—it's almost as if I breathe a little easier!
The three of us drove into excellent weather and that always helps when you're travelling. On the way south we called in on the salt works. It doesn't sound terribly exciting but the sheer quantity of it always makes me think. The shaker on the table had to come from somewhere and this is it.
In Christchurch we split up and I spent the weekend at my other brother's house. He is a diesel engineer and his interests fascinate me as do his vintage tractors—a CAT 10 and a John Deere. Both are beautiful sights to discerning eyes!
We travelled on to Dunedin so that I could spend a few days with Fr Peter Norris at the university and visit Sr Mary Concannon in her home with the Little Sisters of the Poor at Brockville.
Just before getting into Dunedin there's a wonderful beach at Moeraki with scores of round drum-like figures, about a metre across, on the beach. They've grown into a tourist destination with hundreds stopping there to have a look.
Once in Dunedin I stayed at the university while my friends drove and explored Gore for a few days. They had planned to go further but there was plenty in Gore to keep them busy. It's marvellous what every small town in the country throws up for the curious. Their main interest was found in the aeronautics industry!
But to get back to Wanaka—it's only a few hours to the West Coast and Kath and Denis wanted to go there because her grandmother had landed there.
Apparently there was this great vision of Jacksons Bay with dairying and fishing supporting a great number of people but it was remote and didn't have a good wharf so the idea just quietly died.
It's the southern tip of the West Coast so it must have come as a shock to immigrants who landed there. We couldn't find her exact grave but the bay was certainly worth seeing. I think it is pretty well all fishing now.
The Haast Pass is full of mystery to us up north but in fact it is easily driveable with very few trucks and dozens of rental cars and vans. The scenery is quite stunning with totally enveloping bush. Every day was a new interest.