High speed internet access is being provided to schools in central Wellington using City Link in a venture called the Wellington Loop Project. The enterprise was launched last month and St Mary's College Year 13 student, Miria Royal, told the gathering that the students of today are 'digital natives' being the first generation to be brought up digitally.
'We are multitasking, multiple goal orientated, parallel processing, hypercommunicators.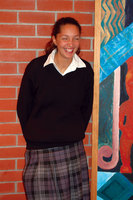 'The way we communicate, the way we express ourselves and the way we maintain relationships has changed, to adapt to our environment. Bebo and cellphones are now our tools of choice to create and maintain relationships.
'This is why the development of the Wellington Loop is so important. It allows us to be not just local, but global. No longer will we be confined to textbooks and teachers for resources. Collaboration between students, teachers and other schools will become the way of the future.'
Students' strengths will be able to be developed and extended using the internet to the extent that, if they wanted to, students could attend lectures on robotics being delivered on the other side of the world.
Art History students could participate as a class in a tour of the Sistine Chapel, for example.
'The Wellington Loop is important for Wellington, and for New Zealand, to ensure that we, as the future, have the opportunity to become part of the global future on our doorstep,' Miria said.