Three students from St Patrick's Parish Paraparaumu have recently completed the Certificate in Catholic Youth Ministry through the Catholic Education Centre in Wellington. Joanna March, Joe Green and Debbie Matheson are only the fifth, sixth and seventh students to complete this qualification which was introduced last year.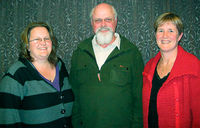 The final part of their certificate was to undertake a supervised six-month Youth Ministry practicum which was the culmination of three years of study. The students broke new ground when they undertook five of their required six papers through distance learning, working together as a small study group from one area.
When asked why they enrolled in the Certificate programme, Joe said that they undertook this course for personal reasons and to develop the capability to deliver a credible youth ministry on the Kapiti Coast. He noted that it was difficult to recruit youth ministers – 'We need to grow our own,' and that is what they've done.
Joanna believes that encouraging young people to live for God and teaching them self-worth is 'one of the most important gifts we can give them'. She said that it is exciting to help empower young people to live as disciples of Jesus in our world today and 'this course has helped me to do this'.
When asked why they chose to complete the course by distance learning, Debbie said this gave them the flexibility they needed to fit study into their personal and family life. Studying as a group in their own environment provided focus, encouragement and motivation.
The students have been involved in youth ministry on the Kapiti Coast in a variety of ways over the past five years and for them completing the Certificate not only gives them a great sense of well-earned achievement, but has helped them provide a more rounded programme which they currently offer across the Kapiti Pastoral Area.
Image: Joanna March, Joe Green and Debbie Matheson from the Kapiti Coast who have just finished their Certificate in Youth Ministry.