Schools
Mike Dowd
8 May 2008
On Wednesday March 19 St Joseph's School, New Plymouth, celebrated its patron's feast day by learning about the school's history and celebrating the renaming of classrooms to commemorate key figures and events in its history.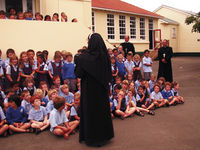 The day began with a school treasure hunt. The mixed age groups rushed around the school searching for clues about the school's history and completing a puzzle of the school logo.
After morning tea the groups were involved in creating a school song, emailing greetings to some of the other St Joseph's schools, creating an artwork of the school logo and exploring the history of the school by searching through some of the treasures in the school archives.
The afternoon ended with a liturgy and the blessing of the new classroom names. Staff were dressed as the nuns and priests who taught in the school in the 1950s may have been which was an amazing eye opener for the students.
Exploring the charism of our school is one of the school Special Character goals for 2008.
New names
Barbier (Room 0) Euphrasie Barbier was the French founder of the 'Sisters of the Missions'. These nuns arrived in New Zealand in the 1800s and set up many of the Catholic schools in New Zealand including Sacred Heart Girl's College, New Plymouth.
McKenna (Room 1) This school is the Dean James McKenna Memorial School named for the man who was a priest here for 30 years from 1889. He left his estate to be used for Catholic Education.
Mission (Room 2) The name of the French order of Sisters who founded St Joseph's Catholic School on the original site near the current location of St Joseph's Church and parish.
Carroll (Room 3) Msgr Michael Carroll was the parish priest in New Plymouth during the 1970s and early 1980s. A monument to Msgr Carroll is on the clifftops above Back Beach.
Heidelberg (Room 4) The original name given to St Joseph's School. Much of the housing surrounding the school is on Heidleberg Estate.
Redwood (Room 5) Archbishop Redwood blessed and declared the school open on October 24, 1926.
Lourdes (Room 6) The town in France where Our Lady appeared to Bernadette and the source of the famous holy water. A very important town for the Mission Sisters.
Fatima (Room 7) The Blessed Virgin Mary is known as Our Lady of Fatima by those who believe that she appeared to three shepherd children at Fatima, Portugal, on the 13th day of six consecutive months in 1917, starting on May 13. This room is the original Fatima Hall which is currently being used as a classroom.