Three rivers flow down the slopes of Mt Pinukis, their waters giving life to rice and corn crops, and fish farms in the surrounding bays.
To the Subanen tribe of Western Mindanao in the Philippines, this dormant volcano is their sacred mountain. To mining companies, it is a potential supply of iron ore, manganese and gold.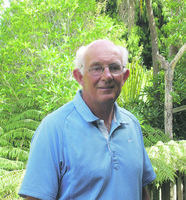 To Fr Paul Finlayson, a Columban missionary in the Philippines for most of the last 34 years, opencast mining on Mt Pinukis would be like cutting into the heart of Western Mindanao – the heart that pumps water for four million people in three provinces, providing a livelihood for them and future generations.
For Catholics, even the sacraments are integrated into this environment. Water for baptism comes from the irrigation canals, oil for anointing and baptism comes from the forests.
Fr Paul grew up in New Zealand steeped in the outdoors and gained 'a sense of creation in the forests, rivers and mountains'.
For his most recent six years in Western Mindanao, Fr Paul was the only priest in San Jose (St Joseph) parish, Midsalip, with 15,000 parishioners.
'A key part of being in that parish was protecting the environment,' he said. 'The Philippines population is heading for around 125 million in the year 2020 so protecting food resources is key.'
Unfortunately, Fr Paul said, the Philippines government sees mining the country's rich mineral resources as the way to economic recovery, on the model of Chile in Latin America.
The mining laws look good on paper, requiring the 'free and prior informed consent' of indigenous people. The practice is different.