Wednesday was such a perfect day. I slipped out to the mall at Hastings to see if they had some clothes I was looking for and then had a beautiful cup of coffee.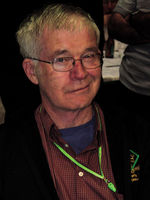 I got back home and had a warm soothing swim with some good friends. The evening passed easily and at the usual hour I sloped off to bed.
At about three in the morning I woke with a terrific headache and I was cold in bed—I mean really cold. I didn't take too much notice as the wonders of high temperatures happen from time to time and I'll wake later and find it has passed. But this one stayed and when it came time to get up I was sticky and very tired.
I forced myself to get up and get dressed but there was no life in me at all even after feeding the goldfish and the cat. Often just doing the things that are necessary slowly brings life into the system again but, not this morning. I still felt tired and more than a little sick.
When the housekeeper arrived she suggested I visit the doctor and I went without a fight. The trouble with having a stoke is that the medics are very alert so I was off in double quick time from the doctor to the satelite hospital in Napier and from there to the regional hospital in Hastings.
This time I could answer their questions at least. It was a little more that three years ago that I was admitted with a king-sized stroke and the medics could have asked what they liked, there'd have been no answer.
I think they were looking for an outside agent for another stroke. So all my senses were tested but nothing seemed to show up. The afternoon came and the fever started to lift quite dramatically but I was so tired. All I could think of was sleeping.
The night set in and of course the last thing you can do in hospital is sleep. The corridor lights are burning, the visitors seem to be in full voice at every bedside and just as you go off to sleep you are woken by another strange noise or a nurse wanting to check your pulse. Hospitals are not the place to catch up on sleep!
While I was in hospital I met a number of parishioners from Taradale and Napier. They were getting the same attention as me and some seemed much sicker than I was.
After a day or two in hospital it was interesting to catch up with doctors and nurses, too. They are folk, like us, who also have their wants and needs but they are incredibly professional.
Slowly things came right. I wasn't going to have another stroke or heart attack. Everything checked out and there didn't seem to be any pattern.
After three days they sent me home and I was greatly relieved. The care they gave me was remarkable and their research was impeccable. It took a few more days for my life to get back to normal but I now know that they really did care for an old stroke victim.