Today's students tend to have fewer hang-ups and issues about matters of religion than those of 25 years ago making the teaching of religion and spirituality easier in the Catholic School context.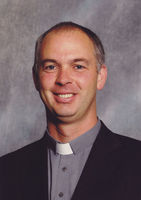 This from the rector of St Patrick's College, Kilbirnie, Paul Martin sm, who says the students generally participate enthusiastically in the Masses at school.
'They basically enjoy going to Mass or to an RE class. Their experience and agenda is different – many are not regular church attenders. In some ways they're probably more open and receptive than previous generations so you can actually talk about religious things without a whole lot of … "oh, here we go again" reaction.'
However, Fr Martin says, today's students tend not to have the same spirituality skills.
'I think you do need to learn to pray.' The students 'sing their hearts out at Mass' and the school liturgies are lovely as a result. But, he says, whether that is tapping into a spiritual base is another question. 'What chance do they have to find a moment's silent prayer.'
This makes the Catholic school system more important because it may be the only opportunity a child has to catch the faith and have it formed.
'That's one of the great things for Catholic schools – our values and our expectations are not just a whim of the board. They form another layer of stability that other schools don't have. We know what our values are – we just have to keep living them.
'Like any school it has its ups and downs but it carries on through the history and it can then endure. It's one of the things to celebrate.'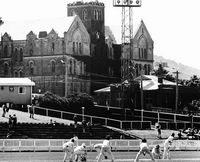 The college is preparing to celebrate 125 years of teaching Wellington's Catholic boys. The school was the first in the Marist stable to open and for 95 years was a landmark on the corner of Cambridge Terrace and the Basin Reserve.
In 1979 the school moved to its present site on the corner of Evans Bay Parade and Wellington Rd, another landmark position on the airport route.
Fr Martin counts the multicultural flavour of the school as an advantage. Half of the school's almost 800-strong roll is of European origin while Samoan students comprise another big group and there are other cultural groups, such as Assyrian and Filipino, which bring an added dimension to the mix.
Another change in school life has been the dwindling of priest numbers on the staff. When the school moved to Kilbirnie there were 16 priests who lived in community at the school and taught there. The boys then had a chance to see how priestly life with its community, sacramental and spiritual living could be an attractive option.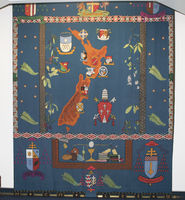 On the other hand, the nurturing and following of the Marist charism – to respond to the Jesus in the gospels and work alongside people as Mary did with the apostles – has more overt expression than when there were a number of priests and religious on the staff.
'There's a lot more talk about what Marist means and how it is lived out in daily life.'
In engaging with parents, the school has its 'Becoming a Patrician' programme to encourage parents and students on matters of faith.
'It's a Christian programme and we don't apologise for that. We want to be clear that these are the things that make our school special.'
All of these attributes will be celebrated in abundance first on May 31 when the Kilbirnie college gets together with its brother college at Silverstream for a combined Mass in the Michael Fowler Centre, then for a music and cultural concert 'Jubilation' that night at the same venue and at Queen's Birthday Weekend for the 125-year jubilee. For more information contact the school, 04 939 3070 or email admin@stpats.school.nz. Web: www.stpats.school.nz
Meanwhile, Fr Martin is in his third year as rector of the College and, at 42, is among the youngest, though not the youngest, to hold the position.
'For me as a priest and a religious it's a wonderful way of working with young people.' As a teacher of English and religious studies at St Pat's in 2004-2005, Fr Martin found he could discuss religion easily in the classroom context without having to set aside a dedicated time for it. 'It gave a really good way of being alongside without scaring the students off in a sense because they got to know you as a teacher and as a priest.'
After a two-year stint at St Bede's in Christchurch, Fr Martin returned to St Pat's as rector in 2008.
'While I don't have the same contact with students as I would in the classroom, I have the opportunity to influence the whole tone of the school. I hope that through who I am and through my leadership encouraging staff and getting out among the boys as much as possible that they can see another possibility.'
Images: Top: Fr Paul Martin sm; centre the school in 1978 on its first site on the corner of the Basin Reserve and Cambridge Terrace; Bottom: A tapestry that hangs in the entrance to St Patrick's College done by parents of the college to celebrate the move to the new site in 1979. Designed by Fr Gerry Mills, it depicts the history of the college and the Society of Mary schools in New Zealand.