The people of Tonga have for the first time needed trauma counselling as they deal with the effects of three disasters in quick succession.
The ferry Princess Ashika sank last August with the loss of 74 lives.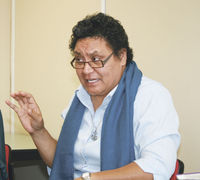 Sr Senolita Vanaka of Caritas Tonga says most of those who died on the ferry were from the outer islands of Tonga. Caritas has set up a team of four counselling specialists to help people with their grief.
She says just a few months later, in October, the Pacific tsunami struck one of Tonga's most remote islands, Niuatoputapu, killing nine people and a series of cyclones have also threatened the livelihood of Tongans.
'March is known as the month for cyclones, but Cyclone Rene hit in February and Cyclone Waka struck on New Year's Day.'
Sr Senolita believes climate change has a good deal to do with the increasing strength of the cyclones which sometimes bring winds strong enough to lift houses and knock a person off their feet.
In the past families living near the sea have been able to go to the water and harvest enough shellfish for dinner. Today this source of food has been swamped by rising seas and people are forced to go out in fishing boats which is a different proposition for poor families.
As well, Tongans who lost their homes in the tsunami are still waiting for the government to use the money given Tonga in aid to help them rebuild. However, the government is trying to persuade the people to leave their land and move to where the government will build them houses on higher ground. But the people do not want to leave their land because, apart from its familial significance, the lower-lying land provides better shelter from the cyclones.
Sr Senolita says Caritas Tonga will continue to lobby the government on behalf of the people but it will also use aid money from Caritas Aotearoa New Zealand to help the people rebuild.
She says on Niuatoputapu particularly, there is a flourishing industry in tapa or fine mats and the men are starting to take part in the creation of the tapa and mats by, surreptitiously in some cases, beating the bark − traditionally a woman's job. The men are realising that since they benefit from the industry, they should also do more to help besides planting the mulberry trees the bark of which is used to make tapa.