One of New Zealand's top young Catholic Maori leaders, Areti Metuamate, is off to Canberra to complete a master's degree in international politics, defence and strategic studies.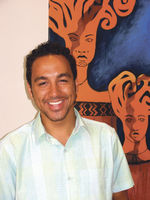 The former head prefect and dux of Hato Paora College, Feilding, who is currently an advisor in the Office of Treaty Settlements and an executive member of the Catholic Runanga, was awarded the prestigious Freyberg Scholarship for post-graduate study in the field of national security.
Areti says the news came just at the right time.
'I think it was a month or so after my dad died when I got the letter in the post,' says Areti. 'Mum and I were at home and the place was pretty quiet and dull and we were planning our move from our family home. It was quite a sad time but when I got the letter and showed it to Mum she said "let's go celebrate, son—that's what Dad would want us to do". It just picked up our spirits.
'I'm sure Dad will be smiling. He was pretty convinced that I would get it because he saw it as an extension of our long-standing family connection to New Zealand defence.' [As well as various ancestors who fought in the world wars, Areti's father was in the army and his younger sister in the air force].
Areti is excited about heading overseas to study but will still have his feet firmly planted at home. 'I have to be back in New Zealand four or five times next year anyway due to whanau commitments.'
Areti will be studying for his Master of Strategic Affairs degree which will lead to the highly sought after Master of Diplomacy programme. His focus will be on New Zealand's strategic role in the Pacific. After his studies, Areti plans to bring his newly-acquired education and skills back to New Zealand. 'I am committed to getting a global education so that I can come back and make a bigger contribution to our communities in New Zealand. I'm passionate about that,' says Areti.
The 24-year-old of Ngati Raukawa, Ngati Kauwhata and Waikato-Tainui recently graduated from Victoria University with First Class Honours in Politics and earlier this year was a New Zealand delegate on the Ship for World Youth leadership programme.
He is a former winner of the Wellington Young Community Leader award, and was appointed by Prime Minister Helen Clark to be the NZ youth delegate at the United Nations Alliance of Civilisations Forum in Spain last year. Areti is an active member of the United Nations Association of New Zealand, the New Zealand Institute of International Affairs and the Asia–NZ Young Leaders Network. He is currently based in Wellington.