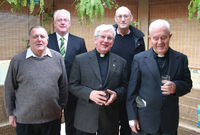 My doctor, Mary English, was very enthusiastic about the project. She thought it was would be good for my health. My sister-in-law did not share this enthusiasm. I fear she imagined that I might 'mug' somebody.
Two questions I have been asked frequently are, 'Why did I want to do it?' and 'Why did I do it on my own?'
The answer to the first is easy. I like walking. It is my form of exercise. It is a rare day when I do not walk for an hour. I often find that one gets a very different view of the countryside from what is seen from a car.
The second question is not so easy to answer. For one thing, I did not want to recruit any companions and find that after the second day, I had 'caved in'. Walking on roads for four hours a day is different from a lunchtime stroll. Also, I thought I needed a bit of time to myself—a sort of 'retreat' in a different context and locality.
People who head off to the moon make massive preparations. I was not going that far, but I did give it some thought. Both the route and my various stopping places were clear in my mind and arranged beforehand. I had been over it many times by car. Over the 11 days, I stayed with confreres, friends and used one motel and one bed-and-breakfast for accommodation.
My idea was to walk the 173 kilometres between Ngaio and Feilding with a minimum of gear—no billies hanging outside the pack, sleeping bags and such accoutrements. I carried a small pack with a water bottle, something to eat, a book and parka. To get some generous soul to carry the rest of my gear onto the next stop was the ruse. (I was generally successful in this endeavour apart from a day and a half.) If there is a next time, I will be sure to recruit someone for this task on all days of the walk.
I had many offers of lifts, all of which I declined. I did not go into great detail about what I was doing. I just said I was 'out for the exercise'. Did I meet any interesting characters? Yes, I did but many probably thought the same about me. One stands out.
When I was in Levin I tried to get someone to carry the large pack onto Foxton. I phoned NZ Couriers who said that they would handle it. When I described the size of the pack to the NZ Couriers official on the telephone, she said it would cost $20. (I was willing to pay more.)
The following morning, a NZ Couriers van appeared at the Levin presbytery. The young M%u0101ori driver was a breath of fresh air. He said, 'How much did that woman in the office say you had to pay?' I replied, 'Twenty dollars.' His answer, 'Too bloody much—a 'tener' to you, mate.' Elated, I said that the address of the Foxton destination was on a tag on the pack. The last word from him, 'Sweet as, Bro.'
How did I stand up to it all? My own view was that I lasted well. My walking shoes are now ruined, with paper-thin soles in places. I had no blisters but after 11 days on the road, my feet were sore. This vanished after another four days. I find that I was using more tendons and muscles than one does when walking from the television armchair to the dinner table.
What was the weather like? In general, it was suitable for walking. There were several dull days and one morning of torrential rain. There was one extremely hot day when I walked from Plimmerton to Raumati—and that is the day I carried the full pack!
Did I lose any weight? No. Of course, I dined royally most evenings at the homes of friends. That did not help.
It is always good to have some goal or incentive. The promise of Des Darby, that he would be waiting with a brandy when I arrived in Feilding, spurred me onwards.
Perhaps there is space for a litany of people who provided me with accommodation or were companions on the way: Chris Penders AA, Ken and Lyn Parris, Kevin Head SM, Besty and Milton Booth, Sue and Jon Loader, Helen and Stephen Anderson, Joe Lamb SM, Barry O'Connor SM, Rod Milne SM, Rev Paul Darroch, Joan Busuttin, Ian and Bev Wilson, John and Anna Feldberg, Des Darby SM.
The most galling experience of all: it took me 11 days to get to Feilding and two hours to return to Ngaio.
The picture shows Brian at centre front with fellow jubilarians, Don Morrison (left front) and Msgr Pat O'Connor, (right front). At back is Tim Duckworth SM (25 years) and David Kennerley SM (50 years).