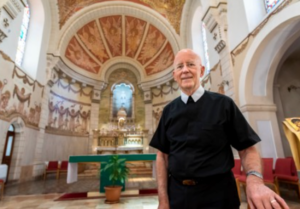 WelCom November 2023
Michael Fitzsimons
The crisis in Gaza is a watershed moment that could have long-term impact on life in the Holy Land, says New Zealander Br Peter Bray fsc, the Vice-Chancellor of Bethlehem University in the Occupied West Bank territory.
In a message to the New Zealand Catholic bishops, he asked for prayers and said there was great uncertainty about what might happen from day to day.
Taranaki-raised Br Peter moved from Wellington to Bethlehem, the birthplace of Jesus, in 2008 to take up the vice-chancellor role. His work as a teacher and education consultant has taken him around the world. He made a speaking tour of New Zealand for the bishops early this year talking about the Israel-Palestine issue.
Bethlehem University was founded by Br Peter's De la Salle Bothers in 1973. It was the first registered university established in the Occupied West Bank territory of Palestine and is the only Catholic university in the Holy Land. It currently has 3,259 students (Muslim and Christian), 17,282 graduates and 214 faculty members. It is celebrating its Golden Jubilee this year.
'I was not surprised by the attack on Israel by Hamas [7 October],' Br Peter said in his message to the bishops. 'While I do not approve of violence as a response, given the ongoing and increasing violent attacks on Palestinians by the Israeli military and the settlers over recent months, as well as the provocative moves by settlers around Al-Aqsa Mosque in Jerusalem during the Jewish feast, I can understand why the Palestinians reacted in the way they did.
'With the extreme right-wing government in Israel and the stated priority of the expansion of settlements in the West Bank, the pressure on Palestinians has been enormous. There have been more Palestinians killed by the military and settlers this year than any year since 2006. It has been obvious that there has been a growing frustration among Palestinians that the international community has forgotten about them and let Israel do whatever it wants.
'The steady expansion of settlements and forcing Palestinians off their land or out of their houses, as well as the continued pressure on Palestinians with home demolition, has left the Palestinians very aware that they are being driven off their land. Many of the settlers make it very obvious they want to take the whole land and do not want Palestinians around.
'The Palestinian Authority has not been able in any way to contain what Israel has been doing, so the Palestinian frustration has boiled over through Hamas, who claim to be defending what remains of the Palestinian land and its people.
'What happened was a major embarrassment to the Israeli military because Hamas fighters were able to take over several military bases and settlements near Gaza and capture soldiers and civilians as hostages. There are real fears now that the Israeli military will strike back with significant violence in retaliation. I think this is a watershed moment that could have long-term impact on life here in the Holy Land.'
In a subsequent communication, Br Peter said a third-year student at Bethlehem University, Khaled Al-Muhtasib, had been shot and killed in Jerusalem.
Speaking of his own experience when visiting the university's online students in Gaza a few months ago, Br Peter said he was appalled at the conditions under which they were living.
'So much has changed since then and things have got so much worse. There are many people there who do not support Hamas, both Christians and Muslims. Bethlehem University has some 400 graduates from Gaza and we are deeply concerned about them. It was Hamas who orchestrated the attack on Israel, not all the people in Gaza! Yet despite that, Israel has cut off all water, power, medical, food and other essential supplies to all people there. This collective punishment of all people in Gaza is having a devastating impact.'
Br Peter said Israel has closed all checkpoints into Jerusalem and around Bethlehem, which meant 40 per cent of Bethlehem University's students from East Jerusalem were unable to get to campus.
'In addition, there are Israeli "flying" checkpoints south of Bethlehem making it impossible for students from Hebron and villages around it to get to campus. As a result, Bethlehem University has moved to online classes in the meantime. How long this will last is uncertain.'
Br Peter said the situation there was tense and unpredictable with a heightened Israeli military presence in and around Bethlehem.
'The language that is being used by both sides dehumanises people with the result that everyone on the other side is an enemy. Here at Bethlehem University we are pursuing a position that the Church in the Holy Land has consistently taken of speaking about justice, peace, reconciliation, respect and a search for equality. It is an uphill task against the dominant words of hate and revenge!'