Wellington
John Kuriakose
4 February 2013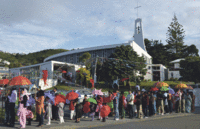 St Mary's Kerala Catholic Community (SKCCW) celebrated its fifth annual feast day on 28 October with a divine liturgy in honour of Our Lady of the Rosary at St Francis de Sales Church, Island Bay.
Newlands parish priest Fr Verghese Thuruthichira VC, presided with Fr Joseph Akkara from Taumaranui, apostolic nuncio Archbishop Charles Balvo and Fr Mateo Kivalu of Island Bay.
In his homily Archbishop Balvo reflected on Mary, the lowly handmaid of the Lord from Nazareth who united herself to the Holy Spirit in following her son to the cross with complete trust and who is now exalted as queen of heaven and earth, watches over her children with her eyes of mercy and is always ready to come to our aid when we call.
Mass was followed by a procession to the convent of the sisters of St Peter Claver.
The evening ended with a sumptous Kerala dinner for the around 300 who attended.
Archbishop Balvo also inaugurated the first raffle ticket for the planned 'My Christmas' celebrations on 8 December at Wellington Girls College Thorndon.
SKCCW was formed in October 2006 to bring together Catholic Christians from the southern Indian state of Kerala to celebrate Mass in the Syro-Malabar rite, under the patronage of the Blessed Virgin Mary.
The Syro-Malabar Catholic Church is an East Syrian Rite Major Archiepiscopal Church in full communion with the Catholic Church. It is one of the 22 sui iuris Eastern Catholic Churches instituted through a special proclamation of Pope Leo XIII in May 1887.
Members of the Syro-Malabar Rite Church trace their lineage to St Thomas the apostle, who is believed to have landed in the region in 52 AD.Since October 2007, the group has prayed the Rosary daily in October in the homes of community members, with the annual feast day celebrated on the last Sunday of October.
Image: Members of St Mary's Kerala Catholic Community bound for the Convent of the St Peter Claver Sisters in Island Bay.