Feature
Martin de Jong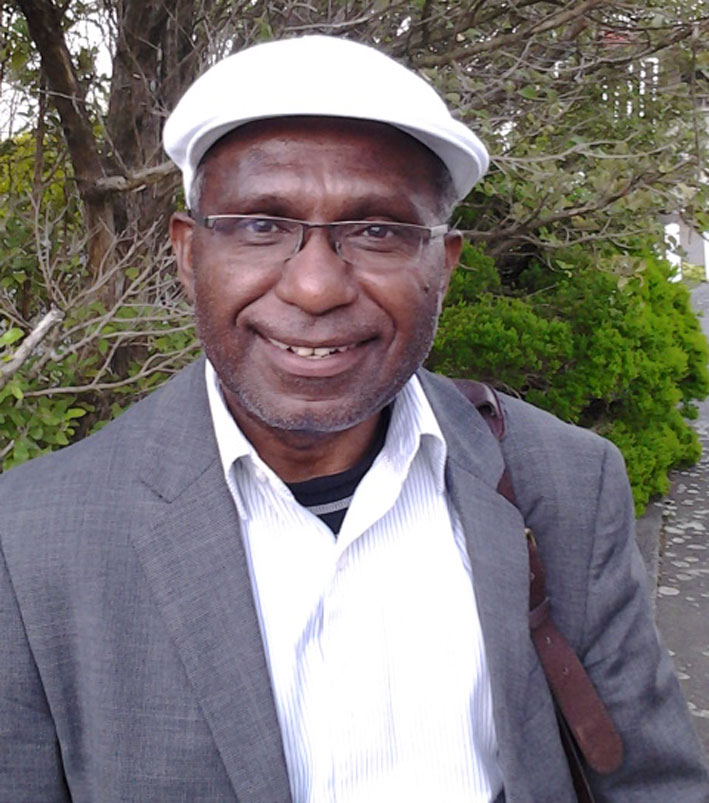 West Papuan exile Octo Mote says Indonesian militarisation, oppression and inappropriate development is destroying his country's society while its neighbour threatens the lives of Papuan leaders.
Mr Mote visited New Zealand at the end of April to raise awareness of West Papuans' desire for self-determination and genuine dialogue with the Indonesian government. Mr Mote chairs the West Papua Peace Negotiating Team, comprising five exiled Papuan leaders whom their people have appointed to represent them in hoped-for future negotiations with the Indonesian government. The team includes Benny Wenda, whose ban from speaking at New Zealand Parliament buildings was covered in the March issue of Wel-com.
The negotiating team was elected by more than 500 Papuan representatives at a Papua Peace Conference in July 2011. The conference stemmed from the work of Catholic priest Fr Neles Tebay on the Papua Land of Peace movement – an interfaith initiative to make Papua a land of peace based on dialogue and mutual respect.
On the Indonesian side, President Susilo Yudhoyono has appointed a special envoy to prepare a negotiation process, but progress seems slow. Meanwhile, there is a race against time to save his country. Due to migration, indigenous Papuans are now a minority in West Papua. 'It is clear that 10 years from now, we will be only 10 percent in our own land.'
Mr Mote's past involvement in Papua-Indonesian dialogue nearly cost him his life. While Head of the Papua Bureau of the Indonesian daily paper Kompas, the Indonesian government itself invited him to facilitate negotiations and dialogue. He was among a delegation of 100 Papuan leaders who met then President B J Habibe in February 1999. Shortly afterwards, he was blacklisted. A relative who was a professor at the Catholic seminary was killed, while he received death threats. He fled to the United States and was given asylum.
He relates being beaten up while delivering pizzas in New York as if it were just another life experience. 'It's a reality of life', he says, and he feels he leads a very rich one.
As an advocate for the West Papuan people, he travels the world to lobby politicians, leaders and others from his current base as a Senior Human Rights Fellow at Yale Law School. This position carries no direct funding. While he receives some payments for lectures, seminars and assistance to students, he has to seek research grants each year – and supplement these with after-hours delivery jobs.
The day after he was attacked in New York, he was teaching 'very smart students in very well-known universities', and the same week meeting Congress members and State Department staff on a lobbying visit to Washington DC.
Mr Mote, a lay Catholic, describes his time in exile as 'like an assignment from the Lord himself'. Initially, it wasn't easy, but he has since carved out a role for himself, as an academic, journalist and lobbyist.
In his current assignment, 'I'm representing Papuans' right for self-determination, because that's what they are asking me to represent. Since then, I take it very seriously. I travel around the world and rally for the support [of self-determination].'
He says he is always experiencing miracles – travelling to countries he's never visited and not knowing anyone there, but through a contact person he will be able to meet a leader or a key influential person.
In New Zealand he was able to meet media representatives, Foreign Affairs officials, students, and Church representatives at a time when West Papuans' right to determine their future in peace and justice is rising on the global agenda.