"Being there for those in difficulty, for refugees and migrants, the poor and the lonely and for the victims and perpetrators of violence and abuse, is a non-negotiable requirement if we are to be faithful to our vocation to be at the service of the world."
Archbishop John Dew – Synod, 2006
"The measure of the greatness of a society is found in the way it treats those most in need; those who have nothing apart from their poverty".
Pope Francis – Rio de Janerio, July 2013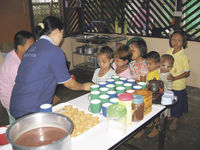 Catholicism and Christianity have as their foundations an inherent belief in the dignity of the human person.
The principles of Catholic Social Teaching suggest that our responsibilities transcend national, racial, economic and ideological differences. For the good of society as a whole, we have a social responsibility towards our fellow human beings.
What is social services?
In general, social services is about people − built on the premise of family/whanau, social connectedness, culture and community. Social services has at its heart a focus on social justice and an equitable access to resources for all. The latter may include access to adequate housing, health and educational needs as well as economic, social and cultural rights.
The United Nations Convention on the Rights of the Child, to which New Zealand is a signatory, says that social services is also about ensuring that in all that we do, the best interests of children must always be a primary consideration.
'In essence social services encompasses open arms, open hearts and open minds – they are about improving the lives of those in need, preventing further social need and advocating for greater opportunity and fairer social structures for the most vulnerable in society'
Centacare Catholic Family Services, Australia
Through the promotion of societal change, problem-solving in human relationships and the empowerment and liberation of people to enhance their well-being, social services provides a framework to work toward the common good.
"The Church cannot neglect the service of charity any more than she can neglect the sacraments and the Word."
DCE 22
or more information contact Catholic Social Services