The unity of the human family does not submerge the identities of individuals, peoples and cultures, but makes them more transparent to each other and links them more closely in their legitimate diversity.
Pope Benedict XVI, Caritas in Veritate (53), 2009 (quoted in NZCBC: Creating inclusive and connected communities, September 2010).
The Archdiocese of Wellington values the rich diversity of cultures of people living and worshipping in parishes and chaplaincies of the Archdiocese. There is a particular pastoral concern for the needs of recent migrant communities who have made New Zealand their home.
The Archdiocese appoints chaplains for those who, for one reason or another, are not able to avail themselves of the ordinary pastoral care provided in parishes and pastoral areas. Chaplains have been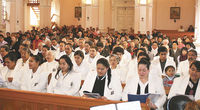 appointed to provide pastoral care to tertiary students, prison inmates, seafarers, hospital patients, the elderly, the hearing impaired and handicapped, Eastern Rite Catholics, as well as the many minority ethnic groups that make up New Zealand society, e.g. Cook Island Maori, Filipino, Polish, Samoan, Chaldean, Korean, Tokelauan, and others. The person appointed by the Archbishop may be a priest, a professed religious sister or brother, or a lay pastoral leader.
To be a chaplain is to be a bridge, linking the community of migrants to the host community… to build the church, in communion with the diocesan bishop … and parish priests … the final goal being the full participation of the migrants in the life of the diocese.
Erga migrantes caritas Christi, The love of Christ towards migrants, Vatican City, 2004, #77
Chaplaincy Contacts
The Treaty of Waitangi "provides the moral basis for the presence of all other peoples in Aotearoa New Zealand" (NZCBC, 1990, A Commemorative Year for New Zealand). The Archdiocesan policy for the pastoral care of minority cultural groups is not one of assimilation (through which peoples lose their cultural identity), but rather one of integration, which recognises and values different cultures, languages, styles of spirituality. A holistic welcome of migrants also includes the effort of the whole community to help them adapt to life in New Zealand, to participate and contribute at all level of society and Church.
This reflects the Archdiocesan vision of communio: in Baptism God invites us to share in the Trinitarian communion – the love of Father, Son, and Holy Spirit. These essential elements of the Church's mission are affirmed by the Archdiocesan Synod of 2006:
Celebrating God in our lives, through liturgy, prayer and spirituality
Sharing our living faith, through education and life-long growth in faith
Growing in community, through ministry and local leadership
Working for justice and peace, our responsibility