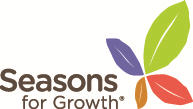 Seasons for Growth (SFG) is a successful education programme which explores the effects of change, loss and grief. The programme recognises that change often hurts and can be confusing, frustrating or threatening. It also recognises that we need support in understanding and coping with the effects of change and loss. Seasons for Growth provides a safe, creative way to explore these issues.
Whether you are going through a change or working with others who are going through change, Seasons for Growth can give you valuable information on the latest research and knowledge available on change, loss and grief.
Seasons for Growth is not counselling or therapy
but it is therapeutic.
The one issue that is constant in life is change.  Change is usual
ly the result of:
loss/bereavement
separation
relocation
change in relationship
change in direction
change in health
personal growth
If you live or work with children or adult and would like to use your time and talent to build community, you need what Seasons for Growth has to offer – education in grief and loss for:
children and young people aged 6-18 years
adults of all ages
teachers and school support staff
whole classrooms of young people
school parent groups
professionals working with families
local community groups
people in prison
Children and young people:
Eight weeks of support and education on change, loss and grief.
Literature for Life – a classroom programme teaching emotional literacy.
Stormbirds – dealing with the impact of natural disasters.
Adults:
A parents' evening on helping children deal with change in their lives.
Picking Up the Pieces – a programme that gives people who work with children the information they need about children and grief.
A two-hour workshop on change exploring attitudes, knowledge and the skills needed to deal with change.
A four-week programme exploring change, grief and loss through the metaphor of the seasons.
Training to companion groups of adults or children through change, loss and grief.
Couples:
Seasons for Couples – a weekend programme that helps couples who have experienced a common loss.  As we strengthen our families with better understanding of each other, we build stronger and united communities.
Prisons
The programme has been running successfully in Rimutaka Prison for the last two years.  We strive to draw out the good in the men who we journey with and in this way work towards justice and peace.
Professionals:
Training to companion groups of adults or children through change, loss and grief.
Teacher professional development.
Guidance in the Literature for Life classroom programme.
Resilience and mental health in young people.
Grief education.
Explaining the Seasons for Growth programme (tailored to your group – from two hours to one day).
Professional development for working with families.
Resilience model.
Coping with grief in a variet of settings.
Booster sessions in grief education.
The community:
Advocacy for the Seasons for Growth programme.
Understanding change, grief and loss.
The effects of grief on a community.
Training is given in all programmes and resources. If you need help yourself or wish to become a 'companion' and facilitate programmes for either children or adults, please contact the Seasons for Growth Office.
Contact Katrin Eickhorst
Resource website: www.goodgrief.org.au