Justice peace and development
"In 2011, the Wellington Archdiocese is a place where everyone knows and understands that social justice is at the heart of the Gospel" (Synod 2006).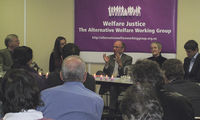 What is justice? Social justice is much more than giving a handout to people in difficult circumstances. It means challenging the attitudes and behaviour of individuals and communities, the decisions and policies of governments and the way the world operates to cause poverty, discrimination and unfairness for certain people and groups of people.
"When I give food to the poor they call me a saint. When I ask why the poor have no food they call me a communist." – Dom Helder Camara
St Anne's Parish, Newtown, has a number of parishioners who struggle to pay their rent in Wellington City Council flats. The parish social justice group has campaigned for at least 10 years to get the council to hold its rents, mostly through making submissions to council committees pointing out the injustice of the comparative ways the council and the government set rent levels. Housing New Zealand uses the policy of charging 25 percent of a tenant's income whereas the council is guided by market rates.
When food prices started to rise sharply around 2007-2008, another group also based in Newtown, asked city council tenants how they felt about this. They discovered that people were concerned about the rising cost of food but they were more concerned about loneliness and about not being able to discuss with others. This group established a monthly people's market where fresh food could be sold at more affordable prices and where people could meet. Two years later this market still enlivens St Anne's parish hall with a wide range of activities. Asking why people are struggling and looking beyond quick-fix solutions to structures of oppression constitutes social justice as distinct from the charity which meets people's immediate needs. The church promotes both approaches through its social teaching.
We are a bicultural nation. We live in a land with a unique heritage and tangata whenua are deeply part of our context. Other settlers in this land come from places from which they derive their unique identity, but Maori culture and language have no other home. (Pope John Paul II, 1986).
Living with Integrity in the 21st century
(Martin Hawes 2003)
Principles of Relationship
1. One people. Humanity is one people. There is no 'them', there is only 'us'.
2. One planet. The earth is our home. When we disrespect it, we endanger all life including our own.
3. Responsibility. Each of us bears a share of responsibility for our communities and hence for the world as a whole.
4. Making a difference. Each of us can contribute to making the world a safer, happier place to live.
Principles of Awareness
5. Learning. Living requires constant learning, and questioning can help free our minds to learn.
6. Seeing. Being aware means seeing with our hearts as well as our minds.
7. Self awareness. Self awareness helps free us from the fear and ignorance that obstruct relationship.
8. Global awareness. To live responsibly we need to understand the global consequences of our actions.
Principles of Action
9. Respect. To respect is to acknowledge the sacred in the earth and in all living things.
10. Simplicity. When we are inwardly rich, we need outwardly very little.
11. Love. When we feel a sense of communion with the universe, we can act from love.
12. Integrity. Integrity is the clarity of intention that comes with understanding and love.
Next steps