Like many other words associated with church, 'liturgy' comes from Greek, the language used by the early church in its worship and writings. The word comes from leitourgia which referred to any public work or function exercised by the people as a whole. The people who do the work of liturgy are the people of God, all baptised.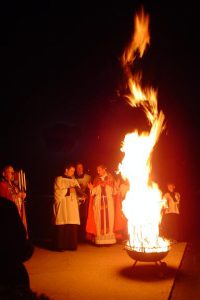 In the Catholic Church, we use forms and patterns of worship that have developed during the Church's 2000-year history. The church's liturgical calendar assigns scripture readings and prayers for use at Mass each day of the year. The celebration of baptism, marriage, funerals and other particular rites are set out in the Church's ritual of books. Within the cycle of a year the Church remembers and celebrates Christ's conception, birth, death, resurrection and sending of the Holy Spirit at Pentecost. As pilgrim people, we are constantly nourished by the story of Jesus and guided by the saints, our ancestors in the faith, living witness of God's unchanging love.
God speaks to us in the the proclamation of the word and in the breaking of the bread we recognise Christ. We participate in the action of the liturgy by responding, singing, listening and joining the gestures.
Unlike the secular calendar, the new liturgical year begins on the first Sunday of Advent at the end of November. The seasons of the liturgical year are:
Advent –covering the four Sundays before Christmas when we prepare to celebrate Christ's birth and anticipate his coming again at the end of time. The liturgical colour for Advent is violet.
Christmas – the season of Christmas celebrates Christ's birth and childhood. It starts on 25 December and ends on the feast of the Baptism of the Lord on the Sunday after 6 January. The liturgical colour for the Christmas season is white.
Lent – the six-week preparation for Easter. Lent starts on Ash Wednesday and finishes on the evening of Holy Thursday. Lent's liturgical colour is violet.
Easter – the heart of the liturgical year is the Easter Triduum (three days) celebrated from the evening Mass of the Lord's Supper on Holy Thursday to Easter Sunday evening. The Easter Vigil is the climax of the celebration. The joyful celebration of Christ's resurrection continues until Pentecost 50 days after Easter Sunday. Easter's colour is white.
There are 33 or 34 weeks of the year that do not celebrate a particular aspect of the mystery of Christ but are devoted to Christ's mystery in all its aspects. This period of the Church calendar is called Ordinary Time because the weeks are numbered in order. The liturgical colour for Ordinary Time is green.
See catholic.org.nz for a deeper view of the seasons.
The National Liturgy Office has resources and information available on their website.
Contact Fr Patrick Bridgman about Liturgical education or resources