Diocesan Priesthood in the Archdiocese of Wellington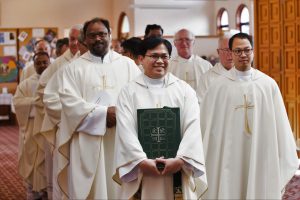 Among the baptised some are called to the ministerial priesthood as deacons, priests and bishops. Those called to the ministerial priesthood receive the sacrament of Holy Orders, and are consecrated for the service of all the baptised and the building up of the Church. Those who receive Holy Orders live a celibate life and have a special obligation to pray and seek holiness.
A priest presides at the celebration of the Eucharist (Mass) and other sacraments, proclaims the Gospel (Good News), teaches the Catholic Faith and works to build up the local faith community. A diocesan priest works within a particular geographical area called a diocese, usually in a parish, as the co-worker of the local bishop who leads the diocese.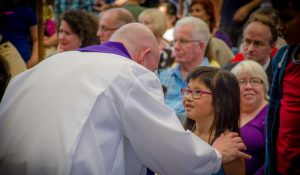 The Archdiocese of Wellington comprises 22 parishes spanning the central New Zealand area from a line between Levin and Masterton in the north to the southern boundary from Kaikoura to Westport. Diocesan priests serve in the 22 parishes and also in schools, hospitals and other social agencies.
The Acceptance Process for Diocesan Priesthood
Anyone wondering whether God is calling him to the priesthood should contact his parish priest or the Vocations Director for the Archdiocese of Wellington. Our Vocation Director, Fr David Dowling is also available to meet with you to discuss your feelings and thoughts on the possibility of a priestly vocation.  He will answer your questions about the seminary and priesthood so that you may begin to make an informed decision about priesthood. Please feel free to contact Fr David on 021 174 4248 or email frdavidd@gmail.com
In John's Gospel, the call of the first disciples occurred when John the Baptist introduced them to Jesus. When Jesus saw them he invited them to "Come and see." That is what happens when a man expresses an interest in priesthood.  There are opportunities to pray, gather more information and reflect on where God may be leading you. You will be welcome to participate in discernment events and other diocesan events.
After a period of discernment, a man expressing an interest in diocesan priesthood in the Archdiocese of Wellington may be asked to begin the formal application process. This includes psychological testing, visiting the seminary, and meeting the Archbishop. The actual process of application is tailored to meet the needs of the individual.