Created in the image and likeness of God from the very beginning of time, human life begins its journey on earth at conception and continues until God calls us home at the time of natural death.
We are called to be stewards of the God-given gift of life.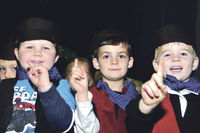 Pope John Paul ll began his encyclical, Evangelium Vitae, by saying "The Gospel of Life is at the heart of Jesus' message. Lovingly received day after day by the Church, it is to be preached with dauntless fidelity as 'good news' to the people of every age and culture."
Creator God,
May the Catholic Archdiocese of Wellington be a witness to human dignity in all stages and circumstances. May we protect and defend it against all assaults and nurture and celebrate it through all transitions and milestones. May we be quick to recognise Jesus in the poor, the weak and the vulnerable. Through the witness of our love for one another, may people be drawn to your love.
Amen
In the name of God: respect, protect, love and serve life, every human life
John Paul II (The Gospel of Life, no 5)
Respect Life Office
The mission of the Respect Life Office is to spread this "good news" to the people of the Archdiocese of Wellington through prayer, education and action so that we might help build up a culture of life in our archdiocese and beyond.