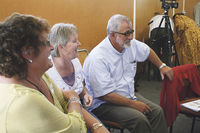 "I have come that you may have Life and have it to the full" John 10:10
We are all on a journey of lifelong learning. Education is integral to the fullness of Life. It is our companion and guide for opportunities to know God more fully and to become more completely human. It is sustained by hope and a desire to strive for personal truth. Education is our wealth, our tāonga.
This is well articulated in the Education and Lifelong growth in Faith Future statement from the 2006 Synod.
"In 2011, the Wellington Archdiocese is a diverse and passionate community, grounded in the teachings of Jesus Christ and committed to education and lifelong growth in faith. We are reflective, spirit filled people, confident in the knowledge of our own faith, outward-looking and mission-orientated, interacting, learning and sharing with people of all beliefs, ages and cultures"
Synod 2006
In the words of this Māori proverb
"Te manu e kai ana i te miro nōna te kahere
Te manu e kai ana i te matauranga, nōna te au"
"The bird that feeds on the miro berry, its domain is the forest
The bird that feeds on knowledge, its domain is the world"
It is through education that we are informed, formed and transformed in our Catholic faith.
"Education is integral to the mission of the church to proclaim the good News. First and foremost every Catholic educational institution is a place to encounter the living God who in Jesus Christ reveals his transforming love and truth." Pope Benedict XVI, 2008.
The Wellington Archdiocese is committed to providing such educational opportunities, delivering what is important to us at all stages of our Life, enriching the journey and challenging us to future growth.
People are able to access support and education at key transition points in their lives as the following story illustrates:
"In 1985 we were asked to host the first Renew in our house. I had no idea what was or what would happen. I was raised a rule-book Catholic. I never questioned anything and tried to live my life according to the rules we were taught. I was afraid to admit at times I had doubts and I felt very alone in my thoughts. Eight people attended and we were led by a nun. This was a very freeing experience, to sit and listen to others sharing their doubts and fears. We heard some of the new ways of thinkin, and, for the first time, I felt that my faith was a faith of love and forgiveness instead of fear and rules. I felt set free. I'm not so afraid to speak my thoughts about my faith. Subsequent programmes built on this. I have learned so much about my faith and myself and it has increased my confidence." Pre – Synod interviews, 2006
Explore some of these opportunities in the following links:
E – learning
Diocesan primary schools and secondary colleges
United parish-school faith communities
Catholic early childhood services
Adult education programmes
Teachers' religious education professional development
Inter-age life courses
One-off speakers and seminars
National Connections
For further information visit the pages of the Vicar for Education