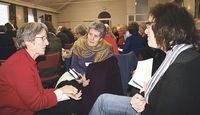 Theology is a study of God. Theology explores questions of life and death, belief and doubt, hope and despair in a world that faces complex human and religious issues. Theology helps us in our quest for meaning in life and in our development of faith, spirituality and religious beliefs. Theology is "Faith seeking understanding"
"I started to study theology quite by accident. I was on a tour of Turkey and Greece, following in the footsteps of Paul the apostle with an Australian religious sister who was teaching biblical studies at Australian Catholic University. For those of her students also on the tour, the tour was a substantial course component. When I showed her the diary I had kept of the sites we visited, she suggested I could amass credits if I were enrolled in the MA Theol course. 'Why would I, a lay woman, want to study theology,' I thought. Just a fortnight into the first paper, I thought, 'This is great – everyone should study theology, whether they're churched or not'. The course encompassed archaeology – what the land can tell us about earlier habitation, anthropology – the earth's inhabitants, history – particularly the evolution of the church and the Second Vatican Council. I graduated with a healthy familiarity of how much I had to learn but with a discernment of the most authentic information and a thirst for a deeper relationship with God while recognising the mystery of God and the fact that I could not possibly begin to know God."
Synod 2006
Why study Theology?
We might study Theology to:
understand more authentically our own religious tradition
understand another religious tradition
compare religious traditions
defend or justify a religious tradition
facilitate reform of a particular tradition
help propagate a religious tradition
draw on the resources of a tradition to address some present situation or need, or to explore possible ways of interpreting the world
explore the nature of divinity without reference to any specific tradition.
Theology is life-enhancing; it is not only about life in the world − it can contribute to the endeavour to live well.
What is Theology?
Christian theology attempts to express the mystery of the dynamic interface between what is given by God and what humanity receives . It is a phrase anchored in culture and society and thus always in need of interpretation.
Theology is the study to know God and God's relationship with us.
The word theology is derived from two Greek words − Theos (God) and logos (word)
The whole means literally "words about God."
While it means "the study of God," the term "theology" can be used both specifically and generally.
It is used specifically to refer just to the study of the doctrine of God.
It is used generally to apply to all the studies related to the Christian religion (OT studies, NT studies, preaching, missions, etc.)
The goal of theology is to know the living God − what God does
Theology is also concerned with practical Christian living.
Theology is established in the reality of who God is (being) and what God does in relation to the world (acting).
Theology involves a response of both faith and reason
Courses for study of Catholic Theology available in the Archdiocese are run by the new Catholic Institute of Aotearoa New Zealand – TCI (formerly the WCEC)