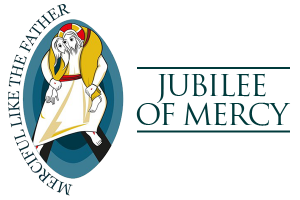 Holy Year of Mercy
In 2015, Pope Francis announced the Church will celebrate an Extraordinary Jubilee, a Holy Year of Mercy, to emphasise the Church's mission of being a witness of God's mercy.
He said, "It's a journey that starts with a spiritual conversion".
As Jesus tells his disciples, "Be merciful as your Father is merciful" Luke 6:36.
The Holy Year opened on 8 December 2015, and will conclude on Sunday 20 November 2016. Catholics throughout the world are observing the Year of Mercy with activities in their churches and parishes and actions in their community.
This page summarises and updates you with the Archdiocese's Year of Mercy programme.
For more information visit the Vatican Year of Mercy website at: http://www.im.va/content/gdm/en.html
Works of Mercy, their meaning and purpose:
'Mercy' is simply love's response to suffering, and 'a work' is simply a good action. For some-thing to be truly a work of mercy it must be done out of love for our neighbour because of our love for God.
All works of mercy are works of love (charity) and are a particular response to the sufferings and misfortunes of others.
The Year of Mercy is a call to each one of us to rediscover and to live the works of mercy every day.
Pope Francis wants us to stop and think, especially during this year, as to how rewarding the works of mercy are, and how important they are, for a happy and meaningful life as intended for us by God our Father.
In his encyclical letter Laudato Si' Pope Francis wrote, "…communities are created, if the limitations of the environment are compensated for in the interior of each person who feels held within a network of solidarity and belonging. In this way, any place can turn from being a hell on earth into the setting for a dignified life."( LS 148)
The Holy Father has reminded us of how we create those communities and help to create a setting for a dignified life for others. He has gifted us with the Year of Mercy, and reminded us to live the Spiritual and Corporal works of Mercy. When considering the 14 Works of Mercy think of these kinds of actions and we will create a new and different world for others:
being available to listen when family members need a sounding board;
working at being less critical of others;
overlooking minor flaws and mistakes;
giving people the benefit of the doubt;
praying for those who have wronged you;
being courageous yet compassionate in calling people and institutions to be faithful to Gospel values;
letting go of grudges; going out of your way to be positive with some-one you are having a difficult time with.
The list is endless. We have a Year of Mercy to pray and reflect about all these challenges as we try to re-frame our daily service at work, at home, in our parishes and schools in light of Gospel values and the example of Jesus. The Year of Mercy will be a great blessing for all of us, as this year has been a year of deep and abundant blessings.
Download the Parish Reflection Programme

Download the Year of Mercy Pilgrimage Resource Pack
The Jubilee Doors of Mercy – Cathedral of the Sacred Heart, Wellington
The Year of Mercy is an invitation to start again. It is an open door we are invited to enter and discover the wonder of the love and mercy of God that calls out to the deepest recesses of our hearts and our world. Pope Francis wrote: "Mercy: the fundamental law that dwells in the heart of every person who looks sincerely into the eyes of their brothers and sisters on the path of life. Mercy: the bridge that connects God and man, opening our hearts to the hope of being loved forever despite our sinfulness." (Misericordiae Vultus 2)
To go through this door and experience the mercy of God everyone has to make a journey, a pilgrimage. This may be a physical journey, to the Doors of Mercy in our Cathedral. But it most certainly must be a spiritual journey, a spiritual pilgrimage in which we look again into our hearts, feel again our longing for forgiveness, for encouragement, for a renewed and joyful faith, for a resilient hope even in the difficulties we all face. By going through the Door of Mercy – physically or in our minds and hearts – we come face to face with our Maker, and come again to see the face of Jesus. This Year of Mercy gives us the chance to be drawn again and again into the loving embrace of God and to discover anew that we live in the presence of the Holy Spirit.
Major events for the Jubilee Year of Mercy
Wednesdays during Lent:
Cathedral Church doors open for all (from Ash Wednesday 10 February 2016 to Wednesday 24 March 2016.)
Monday 4 March–Tuesday 5 March:
24-hours of prayer.
Wednesday 18 May:
Abrahamic Panel on Mercy. Contact Sr Catherine Jones (c.jones@wn.catholic.org.nz) for more information.
Saturday 21 May:
Interfaith Day of Service.
Sunday 6 November:
Jubilee for prisoners.
Sunday 20 November:
Jubilee Year of Mercy closes.