Submissions for the Synod are now closed.
For information about the next step in the process, please contact us at l.hensel@wn.catholic.org.nz / 04 496 1715
"The purpose of the Synod is not to produce documents, but "to plant dreams, draw forth prophecies and visions, allow hope to flourish, inspire trust, bind up wounds, weave together relationships, awaken a dawn of hope, learn from one another and create a bright resourcefulness that will enlighten minds, warm hearts, give strength to our hands …" (PD32)
SYNOD ICONS
Click on the image below to watch an explanation of the two icons of our Synod on Synodality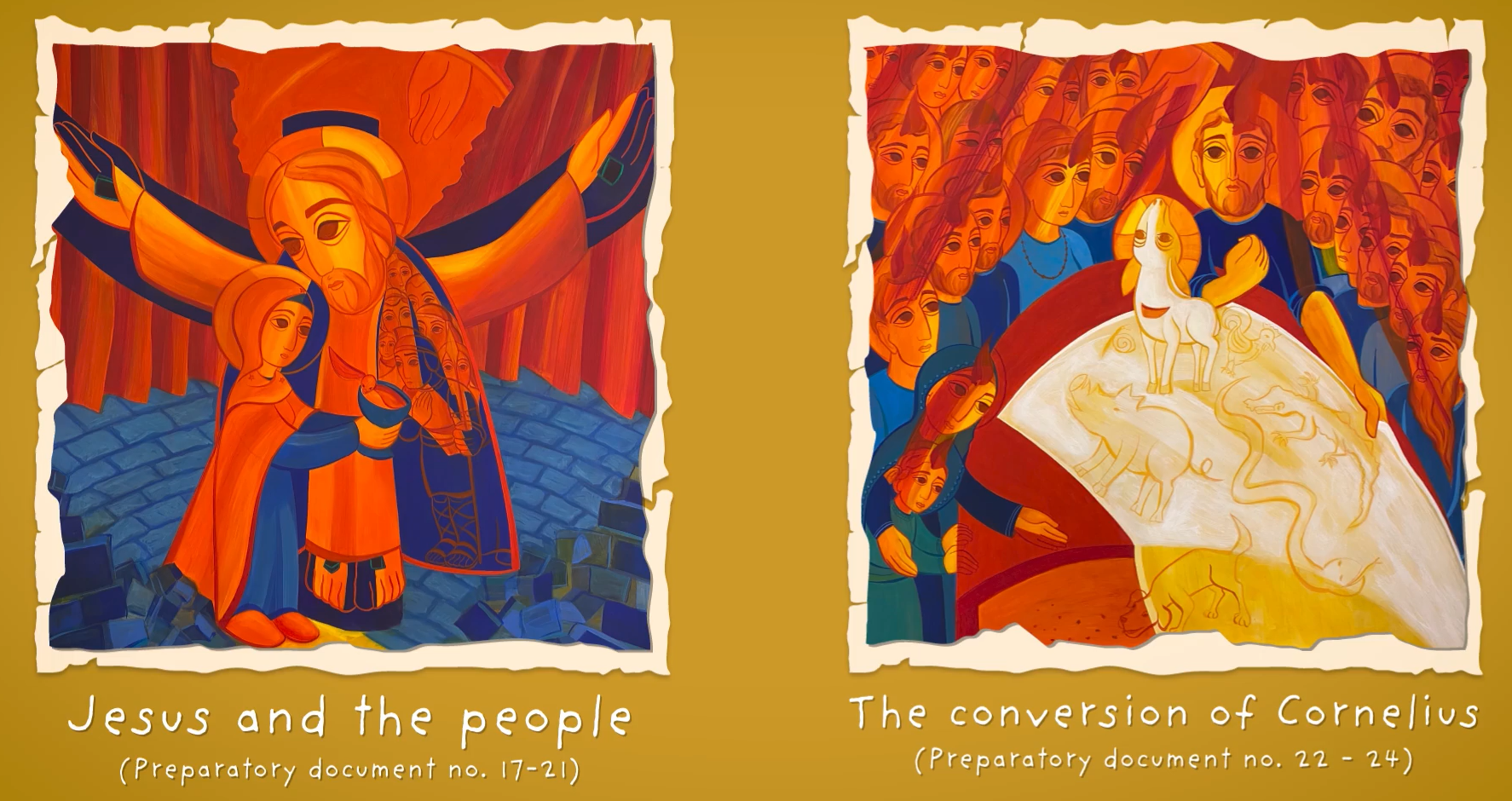 SYNOD IN SCHOOLS
Students in our Catholic Schools also have the opportunity to participate in the Synod. Classroom resources have been sent to all schools in the Archdiocese and are available on our website. Submissions made by students and their families will be included in the Diocesan synthesis. Visit our Synod In Schools page here.
In the meantime, teachers from various schools have been meeting online to participate in the Synod discernment process. For many, it has been a new and refreshing experience of Church as a faith community.
SYNOD RESOURCES
Click on the links below for Synod resources, or send us an email if you require further information. Contact l.hensel@wn.catholic.org.nz
Suggested tools for reflecting, sharing and responding to the questions of the Synod. This and other helpful resources are available online at www.synod.va
RESOURCES IN SAMOAN: MO SE EKALESIA FAASINOTI – TUSI MO E AUAI
UPDATE!! The Archdiocesan Synod Participation Booklet is now available in Samoan! The simplified version of the 10 themes is also available.
This #Synod is an invitation for each member of the People of God to take responsibility for the journey towards our common mission. As we walk together, as Christ did with the disciples, each of us must listen and dialogue courageously towards the call of the #ListeningChurch.
"By walking together, and reflecting together on the path taken, the Church will be able to learn from what she will be experiencing, which processes can help her to live communion, to realize participation, to open herself to the mission."
Synod.va
THE BIG QUESTION
HOW DO CATHOLICS 'JOURNEY TOGETHER'?
HOW MIGHT WE DO IT BETTER?
LIVED SYNODALITY – TEN THEMES
As a way to help us understand what "lived synodality" means, ten themes have been named that can help us become a #ListeningChurch that journeys together. You will find these in the Synod Booklet (available for download below). PLEASE PICK THE THEMES THAT ARE MOST RELEVANT TO YOU. You do not need to respond to all ten themes.
3. SPEAKING OUT
The third theme of the #Synod is speaking out. A Synodal Church speaks out with courage and parrhesia, that is, integration of freedom, truth, and charity.*
SPEAKING OUT
Everyone is invited to speak boldly and courageously in freedom, truth, and love.
How good are we as Catholics at speaking out in public?
How do we say what is important to us as Catholics?
What helps or hinders our public visibility?
2. OUR LISTENING
The second theme of the #Synod is listening. A #ListeningChurch reflects on where the Spirit is calling us with open hearts and open minds and discerns how we can more fully live out our mission. How can we listen to the lived experiences of those who have been excluded and discarded, especially the poor and most vulnerable?
OUR LISTENING
Listening is the first step – it requires an open mind and heart, without prejudice.
How good are we Catholics at listening?
Who do we need to listen to more?
(Consider – women, young people, lay people, those on the margins of society, minority groups, the socially discarded and excluded.)
What stops us from listening more carefully?
OUR JOURNEY TOGETHER
This first theme reminds us that each community member belongs to the People of God. The wellbeing and experiences of our neighbours, especially those who have been marginalized, must be at the center of our focus as we walk together, side by side, in solidarity throughout this #Synod.
OUR JOURNEY TOGETHER
Jesus wants us to walk together, side by side.
How do you feel we as Catholics are doing at walking side-by-side?
Who do you feel is included / welcome on the church's local journey?
Who is not included or welcomed?
PARISHES ENGAGE WITH THE SYNOD PROCESS
Parishes around the Archdiocese are engaging with the Synod process, and submissions are flowing in. Our Synod Team have been working with parish leadership teams, pastoral councils, and ethnic community leaders, guiding them through the process and enabling them to facilitate Synod groups in their respective communities.
Some parishes are hosting open events for anyone to take part in. Others have started by engaging groups already established within the community, such as stewardship groups, liturgy committees, teaching staff at the local school, prayer groups and youth groups and even the parish book club!
The discernment process is not complicated and can easily be used with family and friends. The key is to remember that it is a spiritual conversation, rather than a discussion, and that prayer and listening are key to the whole process. A simple outline of the process is available below.
Since we are being invited to journey together, the group process is recommended. However, individual submissions are also welcome, and we encourage people to engage in prayerful reflection as part of the process of writing their submission.
If you would like to find out more, please get in touch! Contact Chris or Lucienne at 04 496 1706 / 04 496 1715 or c.walkerdine@wn.catholic.org.nz / l.hensel@wn.catholic.org.nz
TAKE PART IN THE SYNOD
"Do you want to be part of this great adventure? Read, listen, share, dialogue with others, have your say in the consultation process…"
HERE'S HOW YOU CAN CONTRIBUTE
READ and REFLECT on the materials provided. Download the Synod Booklet (see below) – the reflection/discernment process is clearly outlined in this booklet which has been prepared specifically for our Archdiocese. A simpler version of the questions and themes is also available. For the full Synod Preparatory Documents please visit www.synod.va
CONTACT YOUR PARISH to find out how you can join or lead a Synod Reflection Group. Synodality is all about journeying together. Reflecting with others is the best way to engage with this process.
GET TOGETHER WITH FRIENDS AND FAMILY and form your own group! You will find some tips on how you can do this in the Synod Booklet.
REACH OUT to those who no longer feel connected to the Church and invite them to take part. Pope Francis really wants to hear from them too!
SUBMIT YOUR RESPONSE
E-MAIL: Download the Word document "Synod participation response" below. Email your response in Word format to synod@wn.catholic.org.nz
POSTAL RESPONSE: handwrite or type your response to the questions and post it to: Office of the Archbishop, Archdiocese of Wellington, PO Box 1937, Wellington 6140.
VERBAL RESPONSE: if there are reasons why you find it difficult to make a written response you are welcome to ring us to see if it is possible to provide a verbal response. Call 04 496 1715.
YOUR BAPTISM CALLS
"I want you to be involved in this Synod process. Your baptism calls you and entitles you to be involved…. I am looking forward very much to your involvement in imagining a different future for the Church. Please use this opportunity, it is essential that we do so. This Synod sets out to change the fact that most of the people of God have been passive spectators for years. You can help to change that. Please take up the invitation to be involved in this Synod process." Cardinal John Dew
"There is no need to create another church, but to create a different church…"
Pope Francis, 9 October 2021
HELPFUL RESOURCES FOR PARISHES
Suggested tools for reflecting, sharing and responding to the questions of the Synod. This and other helpful resources are available online at www.synod.va
Listening – Discernment – Journey – Mission – Future

–

Sharing – Creativity – Communion – Authenticity

These are some of the themes we will be reflecting on in the coming weeks as we embark on a journey with Catholics around the world. In the words of Pope Francis, "we need creativity of the Gospel, not 'a defensive Catholicism". This global synod gives us all the opportunity to listen to the Holy Spirit, reflect on what it means to be the People of God journeying together, and be creative as we imagine a Church of the future where all are welcome and nobody is left behind.
The purpose of the Synod is to CONNECT, ENGAGE and INSPIRE.
JOIN US!
"…the purpose of this Synod is not to produce more documents. Rather, it is intended to inspire people to dream about the Church we are called to be, to make people's hopes flourish, to stimulate trust, to bind up wounds, to weave new and deeper relationships, to learn from one another, to build bridges, to enlighten minds, warm hearts, and restore strength to our hands for our common mission" (Synod Preparatory Document)
Pope Francis has convoked a Synod, inviting the whole Church to question itself on synodality: a decisive theme for the life and mission of the Church. On Sunday 17th October 2021, every diocese in the world will celebrate the opening of this Synod : "For a Synodal Church: communion, participation and mission". The Synod will have three phases (diocesan, continental, universal) of consultations and discernment, culminating with the XVI Assembly of the Synod of Bishops in Rome in 2023. In his recent message to the Diocese of Rome (18 September 2021), Pope Francis said: "I have come here to encourage you to take this synodical process seriously and to tell you that the Holy Spirit needs you… Listen to Him by listening to yourselves and do not leave anyone out or behind". This holds not only for those present, but for the whole of the Church, "which is not strengthened only by reforming structures, giving instructions, offering retreats and conferences, or by dint of directives and programmes, but if it rediscovers that it is a people that deires to walk together, among itself and with humanity. A people which contains the variety of all peoples and all conditions: what an extraordinary richness, in its complexity!"
"The Holy Father wants to hear the voices of all the baptised. He believes the time is ripe for a wider participation of the people of God in a decision-making process that affects the whole Church and everyone in it." (Cardinal John Dew)
The Diocesan Phase
Pope Francis has indeed asked all Catholic dioceses around the world to start consulting with parishioners from October 17 to hear the voices of the People of God. In the Archdiocese of Wellington, this consultation will happen through parishes, schools, faith communities and individual submissions. "After that consultation, the New Zealand bishops will meet early next year to listen to what the Spirit has inspired in the churches entrusted to us," says Cardinal John. The Bishops' synthesis of the diocesan consultations will then form part of an Oceania document which will be submitted to the Synod of Bishops in 2023.
You are invited to participate in this global synodal journey by taking the time to pray and reflect on how we journey – both individually and with others. Parish leadership teams and pastoral councils are encouraged to make time for this process within their teams, and to organise opportunities for parishioners' participation. People are encouraged to come together within established groups or informally with friends to engage with the process. Those who cannot participate in the group discernment process are welcome to make individual submissions. We encourage everyone to take part, and to find creative ways to engage others in the process.