Diocesan and religious priests
There are two types of priests in the Catholic Church, diocesan priests and religious priests. They have a lot in common – they undergo similar training for 6-7 years, they are ordained by a bishop, they can say Mass, preach the gospel and administer the sacraments, and they serve God's people.
The differences lie in who they are responsible to (and who is responsible for them), and the promises made at ordination by diocesan priests and the vows made by religious priests.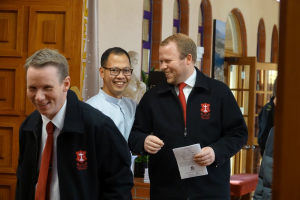 A diocesan priest is incardinated in a diocese, which means that he is responsible to the Ordinary (the term for the bishop of the diocese). Incardination also means that the bishop has certain obligations to his diocesan priests, such as providing for their needs. A diocesan priest lives and works in his diocese, usually in a parish, although he may be assigned to other ministries. The parish is usually the community in which a diocesan priest lives.
A religious priest is responsible to the Superior of his religious community and congregation, rather than to the local bishop. Religious priests may move around the country or even internationally, according to the needs of the work their congregation does. Religious priests normally live in a community, and their religious community is an important feature of their lives.
At ordination a diocesan priest promises to obey his bishop and to live a celibate life. Religious priests take vows of poverty, chastity and obedience, usually before ordination as a priest.


The Archdiocese of Wellington
The diocesan priests of the Archdiocese of Wellington serve in the geographical area between Levin-Masterton in the North Island and Westport-Kaikoura in the South Island. Their bishop (Ordinary) is Cardinal John Dew.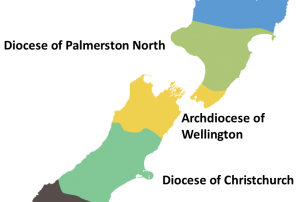 Becoming a diocesan priest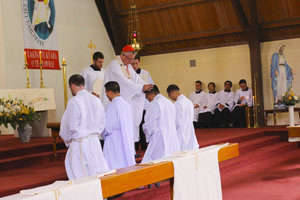 Becoming a diocesan priest begins with a process of discernment, which may lead to being admitted to Holy Cross Seminary where priests from the six dioceses in Aotearoa New Zealand are trained. The bishops work together to oversee the Seminary, and take a personal interest in the seminarians from their diocese as they progress towards ordination.
You can find out about life at Holy Cross Seminary from their website. Seminarians study at Good Shepherd College and you can find out about the programme from their website.
To find out more about priesthood in the Archdiocese of Wellington go to our priesthood website. To talk about diocesan priesthood in the Archdiocese of Wellington contact
Fr Andrew Kim
Ph 022 102 2011
Email: wellingtonpriests@gmail.com