Being a Lay Pastoral Leader is a calling to a radical way of being and working in the Church. It is a special invitation to live out our baptismal call to be missionary disciples.
Launch Out is the formation programme designed and initiated by the Archdiocese of Wellington for future Lay Pastoral Leaders and Lay Leaders of the different ministries in the archdiocese.
Launch Out has produced Lay Pastoral Leaders in various Catholic organisations and chaplains in the Archdiocese of Wellington. Several have worked in senior chaplaincy roles for the New Zealand Catholic Bishops Conference. Some of them have been also invited to work in other dioceses.
Click on this link to read the History of the Launch Out Formation Programme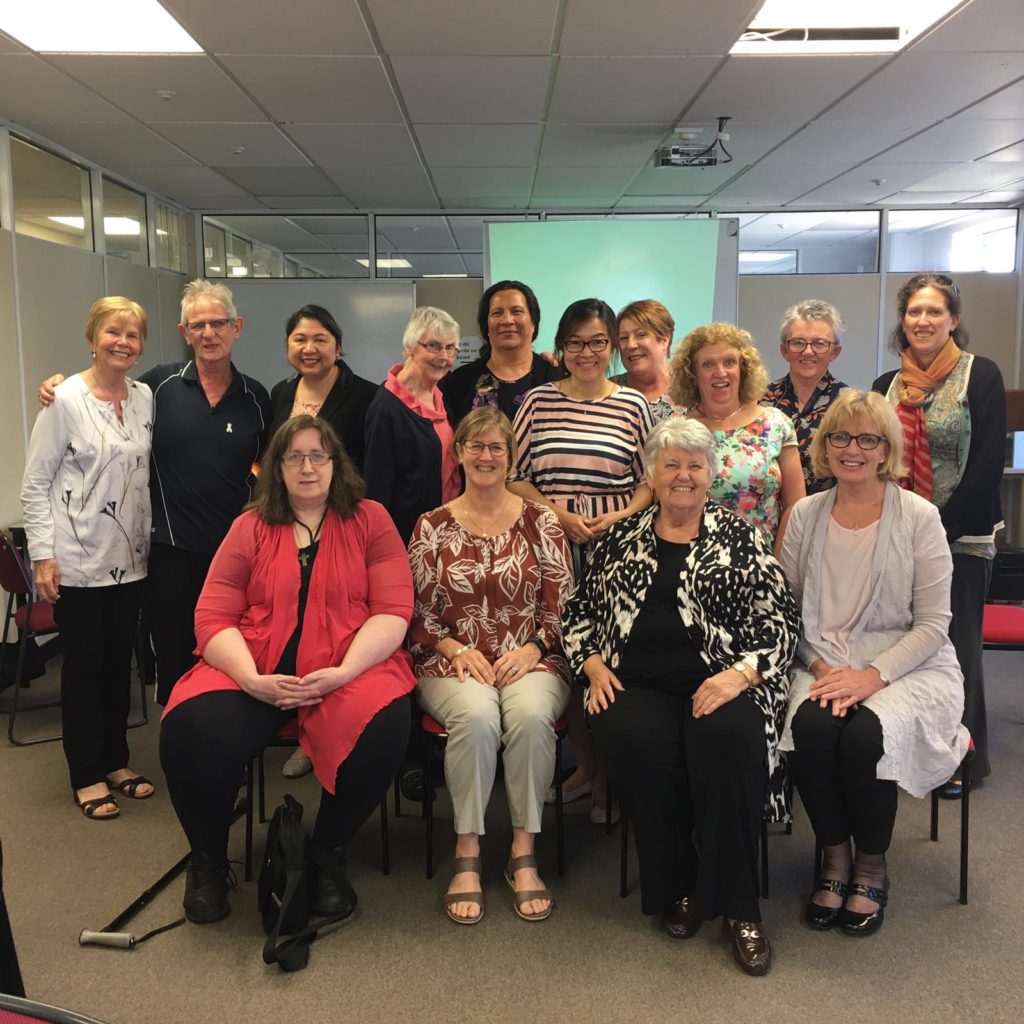 Present Launch Out Candidates
Telesia Alaimoana – Telesia was born in Samoa, a mother of two, and married to Simati. Telesia is a qualified Social Worker who currently works as a Facilitator Support of the District Health Board and has extensive experience in the health and disability sector. She is passionate about engaging with the Samoan community and finding ways to enrich their contribution to the Church. Telesia is currently active with Our Lady of Hope parish in Tawa and Titahi Bay.
Lisa Beech – Lisa originally from Australia, now living in Wainuiomata and a mother of Kaisa, Lakan and Datu. She is a fixture in ADW having worked in Caritas and Catholic Social Services. At present, she is the Ecology, Justice, and Peace Advisor to the office of the Archbishop. She is a student of Te Reo Māori and is working towards completing a Master of Public Policy at Victoria University. She is currently involved both with the Maori Eucharistic community- based at Te Kāinga Catholic marae in Kilbirnie and Te Wairua Tapu parish in Lower Hutt.
Margaret Bearsley-Margaret is originally from the Waikato, and now lives in Wellington. Margaret studied theology through Holy Cross College in Mosgiel in the late 1980s. After two years working at the National Centre for Religious Studies in Auckland, she returned to Hamilton to study law at Waikato Law School. When her husband died in 2011after a long illness, she began to consider how she could again become active in parish life, initially beginning with involvement in St Vinnies. Her intentions on becoming a member of the Holy Trinity Parish Pastoral Council in 2019 were to help the amalgamated parish flourish as a united Catholic community and to support the spiritual growth and missionary outreach of parishioners. Undertaking the Launch Out programme provides many opportunities for her to discern her calling to support parish life and growth.
Mely Kartawidjaya– Mely was born in Jakarta, Indonesia. She was with the ICPE Lay Missionary Group, where she served as lay-missionary to Indonesia, Philippines and now New Zealand. At present, she works as the Office Administrator of the Catholic Enquiry Centre. She along with her husband, Petrus, and their two children, Michael and Viola, attend Wellington South Parish. Mely is passionate about children's liturgy and finding creative ways to engage young people in their faith.
Patricia Lynch – is New Zealand born of Irish descent. She has been teaching for eleven years and is currently Assistant Director of Religious Studies at St. Mary's College, Wellington. Prior to teaching, Patricia had a career in Air New Zealand. She has a Master of Religious Education from the Australian Catholic University. Patricia regularly participates in group prayer and is presently affiliated with Holy Trinity Parish in Kilbirnie.
Jude McKee- Jude is New Zealand-born. She has two older brothers and a younger sister. She presently cares for her elderly mother and is a 'professional' aunty to her nieces and nephews. She feels lucky to be employed as the Office Manager with Wellington Rugby and The Hurricanes, given she has a love of the game of rugby instilled in her from birth by her Dad! In her sharing of her faith, Jude is passionate about bringing people together to pray and share their stories over a meal. She is very active within the Plimmerton Parish of St Theresa's and has a special interest in ensuring the youth of the parish is actively involved in praise and worship.
Bernadette Patelesio– Bernadette has been living Wainuiomata for the past 25years. Bernadette and her husband Peter have five children and 7 grandchildren. She has recently begun working as a piano teacher has spent the last 15 years working in health and social services. She is now working very part-time in order to focus on her Launch Out journey and being home for her elderly mother who lives independently on the same property. She is an active parishioner at St Patrick's, which is part of Wairua Tapu Parish, currently serving on the Stewardship Team.
Vicky Raw– Victoria (known by many as Vicky) is by nationality a Piwi – half a Pom and half a Kiwi –but she also has Portuguese heritage. Born in central London, she moved to Edinburgh to undertake her undergraduate studies in agriculture. Part of her studies took her to Angers, in the winegrowing region of the Loire Valley, France, where she developed her personal and professional interest in the wine industry and in particular in viticulture. Eventually, her work path led her to the Marlborough region where she has been based in Blenheim since 2000. During this time, the call to service both at the parish and local community levels has helped her to deepen her faith and put down roots in the Top of the South. Vicky rejoined Launch Out in 2000 as she firmly believes that we are all called to partake in active ministry in the church and where better to develop this than doing Launch Out. Undertaking the various study modules and attending prayer days and retreats have helped her to develop new areas of spirituality and theological, scriptural and liturgical understandings. Journeying along this exciting path with the other Launch Out candidates is a privilege.
How do I apply?
Interested applicants can email the Formator and Manager, Maya Bernardo m.bernardo@wn.catholic.org.nz., to express interest. The applicant will be contacted by phone or meet up personally for a conversation, where Launch Out will be explained. The LO Formator and Manager would then send you the application form along with the requirements.
The prospective candidate submits a completed application form and curriculum vitae, with contact details of at least three referees. The application period runs anytime from January to October. Thus, an applicant must submit all requirements not later than 15th of October.
An initial interview is set with Maya Bernardo, the Launch Out Formator and Manager. This interview will determine if the applicant is short-listed.
A short-listed applicant is then interviewed by a panel, consisting of Cardinal John Dew (Archbishop of Wellington), Chris Duthie-Jung (Director, Church Mission) and Maya Bernardo. Acceptance into the formation is the panel's decision.
Commencement to the programme begins in the year following the acceptance period (E.g. if you were accepted this year, you will start the following year). From thereon, the applicant becomes a Launch Out Candidate.

How long will it take?
The formation programme can last between 4 to 8 years, as the Candidates balances Launch Out with the needs of their jobs and families.
LO Candidates are appraised twice within the formation programme.
Candidates who satisfactorily complete the programme will be endorsed by the Archbishop, and their availability for a pastoral leadership position will be made known throughout the Archdiocese. Although there is no guarantee of employment for a Lay Pastoral Leadership position upon completion, the Launch Out endorsement is highly considered by many Catholic organisations in looking for possible leaders for the different ministries.

What is the programme?
The programme is an integration of three formation programmes, namely: Theological Formation, Spiritual Formation and Pastoral Formation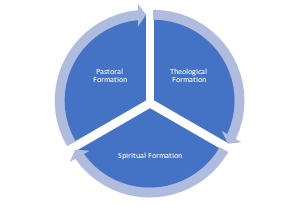 Pastoral formation
LO Candidates are given a plethora of experiences to acquire practical skills in working in a parish setting. These experiences also inform their discernment of whether being a Lay Pastoral Leader is suited to their gifts. LO Candidates are asked to run a total of 4 projects within the formation year. They are will be given a chance to assist a Lay Pastoral Leader in doing some of their jobs in the parishes (e.g. organising sacramental services, processing documentation, etc).
Theological Formation
Like most professions, being a Lay Pastoral Leadership has its distinct qualification. It is important to equip a Lay Pastoral Leader with the theological knowledge in running ecclesial organisations such as parishes, faith communities and the different ministries. Hence, a Launch Out Candidate will be required to enroll the NZ Certificate in Christian Studies- Christian Ministry Strand (NZCCS-CM) and the NZ Diploma in Christian Studies- Christian Leadership Strand (NZDCS-CL) from Te Kupenga Catholic Leadership Institute (former The Catholic Institute) www.ctc.ac.nz. The cost for the studies is to be shouldered by the Launch Out Candidates.
Spiritual Formation
LO Candidates need to nurture a robust life of prayer, where they constantly reflect on the movement of the Holy Spirit in their lives. The Spiritual Formation helps the LO Candidate piece together the learning they get from the Pastoral and Theological Formation. The Launch Out Candidate will be required to see a spiritual director once a month for at least 10 months in the year, attend 3 Prayer Days, and 1 Retreat in a year. The cost associated with these activities is undertaken by the Archdiocese.
The Launch Out Programme produces a monthly publication called LOL (Launch Out Letters). LO Candidates are encouraged to write their theological reflections on relevant Church topics and issues. LOL also offers resources that can be useful to parishes.