Being a Lay Leader is a calling to a radical way of being and working in the Church. It is a special invitation to live out our baptismal call to be missionary disciples.
Te Hao Nui – Launch Out is the formation programme designed and initiated by the Archdiocese of Wellington for Lay Leaders of the Archdiocese. Candidates are prepared to be Lay Pastoral Leaders or Lay Ecclesial Ministers.
Te Hao Nui – Launch Out fulfils the formation requirements of the Catechist as specified in Pope Francis' Apostolic Letter instituting the Ministry of the Catechist in Aniquum Ministerium
(Note: Launch Out does not mean one becomes a Catechist, as this require a special installation from the Bishop. Launch Out guarantees that a graduate has gone through the prescribed formation to carry out the responsibilities of a Catechist).
Te Hao Nui – Launch Out has produced Lay Pastoral Leaders in various Catholic organisations and chaplains in the Archdiocese of Wellington. Several have worked in senior chaplaincy roles for the New Zealand Catholic Bishops Conference. Some of them have been also invited to work in other dioceses.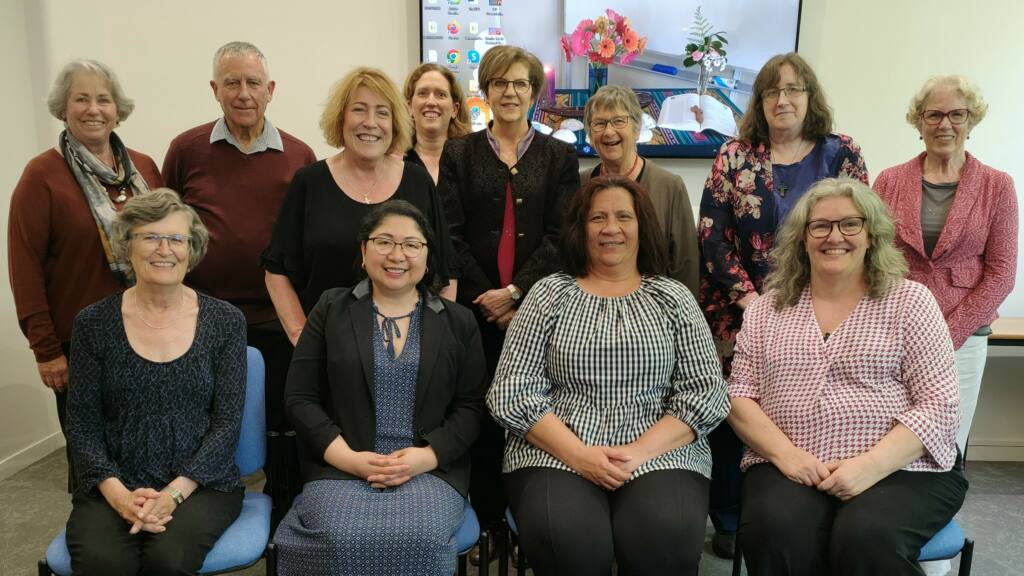 Click on this link to read the History of the Launch Out Formation Programme
Present Te Hao Nui – Launch Out Candidates
Telesia Alaimoana – Telesia was born in Samoa, a mother of two, and married to Simati. Telesia is a qualified Social Worker who currently works as a Facilitator Support of the District Health Board and has extensive experience in the health and disability sector. She is passionate about engaging with the Samoan community and finding ways to enrich their contribution to the Church. Telesia has finished a New Zealand Diploma in Christian Studies- Christian Leadership stand from Te Kupenga Catholic Theological College. Telesia is currently active with Our Lady of Hope parish in Tawa and Titahi Bay.
Margaret Bearsley-Margaret is originally from Waikato, and now lives in Wellington. Margaret studied theology through Holy Cross College in Mosgiel in the late 1980s. After two years working at the National Centre for Religious Studies in Auckland, she returned to Hamilton to study law at Waikato Law School. When her husband died in 2011 after a long illness, she began to consider how she could again become active in parish life, initially beginning with involvement in St Vinnies. Her intentions in becoming a member of the Holy Trinity Parish Pastoral Council in 2019 were to help the amalgamated parish flourish as a united Catholic community and to support the spiritual growth and missionary outreach of parishioners. Undertaking the Launch Out programme provides many opportunities for her to discern her calling to support parish life and growth.
Jude McKee- Jude is New Zealand-born. She has two older brothers and a younger sister. She presently cares for her elderly mother and is a 'professional' aunty to her nieces and nephews. She feels lucky to be employed as the Office Manager with Wellington Rugby and The Hurricanes, given she has a love of the game of rugby instilled in her from birth by her Dad! In her sharing of her faith, Jude is passionate about bringing people together to pray and share their stories over a meal. She is very active within the Plimmerton Parish of St Theresa's and has a special interest in ensuring the youth of the parish is actively involved in praise and worship.
Bernadette Patelesio– Bernadette has been living Wainuiomata for the past 25years. Bernadette and her husband Peter have five children and 7 grandchildren. She has recently begun working as a piano teacher has spent the last 15 years working in health and social services. She is now working very part-time in order to focus on her Launch Out journey and being home for her elderly mother who lives independently on the same property. She is an active parishioner at St Patrick's, which is part of Wairua Tapu Parish, currently serving on the Stewardship Team.
Vicky Raw– Victoria (known by many as Vicky) is by nationality a Piwi – half a Pom and half a Kiwi –but she also has Portuguese heritage. Born in central London, she moved to Edinburgh to undertake her undergraduate studies in agriculture. Part of her studies took her to Angers, in the wine-growing region of the Loire Valley, France, where she developed her personal and professional interest in the wine industry and in particular in viticulture. Eventually, her work path led her to the Marlborough region where she has been based in Blenheim since 2000. During this time, the call to service both at the parish and local community levels has helped her to deepen her faith and put down roots in the Top of the South. Vicky rejoined Launch Out in 2000 as she firmly believes that we are all called to partake in active ministry in the church and where better to develop this than doing Launch Out. Undertaking the various study modules and attending prayer days and retreats have helped her to develop new areas of spirituality and theological, scriptural and liturgical understandings. Journeying along this exciting path with the other Launch Out candidates is a privilege.
Bonita Tasele– Bonita was born and raised in Samoa in the village of Leauva'a in Samoa. She is a mother of six adult children and a teenager. And a grandmother to 8 mokopuna. She migrated to New Zealand in 1988. She has completed her double degree at the University of Victoria with a double specialisation in BA in teaching and Samoan Studies. She finished her teaching Diploma at Teachers College, Karori, Wellington. She has also finished a Diploma in Religious Studies and Catechetical Studies from Wellington Catholic Education Centre (now Te Kupenga). She currently teaches Religious Studies and Samoan Studies at Bishop Viard College in Porirua. She is also an active parishioner of the Holy Family Parish in Porirua. She proudly shares that her inspiration to share her faith through teaching young people and serving the Church comes from her father.
Jerry Sparks – Jerry is a born and bred Wellingtonian and lives in the eastern suburbs with his wife Eleanor and their two young daughters, Margaret and Elizabeth. Jerry is a Communications and Finance Administrator at the New Zealand Catholic Education Office (NZCEO) and enjoys working to support our Catholic School network. Jerry has completed the New Zealand Certificate in Christian Ministry at Te Kupenga Catholic Theological College and is currently working on his New Zealand Diploma in Christian Ministry– Christian Leadership Strand. Jerry is especially interested in supporting the faith formation of young people and welcoming adults who are seeking to learn about or return to the Catholic faith. Jerry is an active member of Holy Trinity Parish in Miramar.
Who can apply?
Baptised and Confirmed Catholics residing in the Archdiocese of Wellington
Active in parish ministries for at least 3 years
A person of good character
Openness to go through pastoral, theological and spiritual formation
Description of the programme
The formation programme can last between 4 to 8 years, as the Candidates balances Te Hao Nui – Launch Out with the needs of their jobs and families. In the third or fourth year of their formation, the Candidates are asked to discern their specialisation. This would determine the direction of their future pastoral projects and the additional courses they will take when they graduate from Te Kupenga. There are two main pathways: Lay Pastoral Leadership, where they will be prepared to run parishes, and Lay Ecclesial Minister where they could serve as chaplains (e.g., prison and hospital) or drive specific ministries in the archdiocese and parishes (e.g. youth, marriage, family, adult formation, parish-school engagement and other ministries).
Candidates who satisfactorily complete the programme will be endorsed by the archbishop, and their availability for service will be made known throughout the Archdiocese. Although there is no guarantee of employment the Launch Out endorsement is highly considered by many Catholic organisations in looking for possible leaders for the different ministries.
The programme is an integration of three formation programmes, namely: Theological Formation, Spiritual Formation and Pastoral Formation.
Theological formation
Like most professions, being a Lay Leaders have its distinct qualifications. It is important to equip Lay Leaders with theological knowledge in running ecclesial organisations such as parishes, faith communities and the different ministries. This would entail the study of scripture, theology, and pastoral leadership. A Launch Out Candidate will be required to finish the NZ Certificate in Christian Studies-Christian Ministry Strand (NZCCS-CM) and the NZ Diploma in Christian Studies- Christian Leadership Strand (NZDCS-CL) from Te Kupenga Catholic Leadership Institute www.ctc.ac.nz. The cost for the studies is to be shouldered by the Launch Out Candidates..
Depending on the specialisation a Candidate chose, they will take up additional courses or take up professional development.
Pastoral Formation
Pastoral formation is the component that develops practical skills in leadership and pastoral care in a parish setting. Candidates are required to organise at least one pastoral project a year and at least a total of four pastoral projects during their formation. At the end of the year, around November, the Candidates present the outcomes of their projects to the bishop, different leaders in the Archdiocese, the Launch Out community and their families. We call this the Pastoral Presentation Day and it is the highlight of a Launch Out year. Examples of Pastoral Projects current Candidates ran: Organising the Order of Rite of Initiation (OCIA or formerly RCIA), engaging under 50s parishioners through shared meals, developing a database for parish roll, teaching senior parishioners the use of digital technology to cope with the lockdowns, organising lenten huis for tamaraki for a Maori community, developing and running an adult formation programme for lay ministers of the parish, etc.
Candidates are assigned Mentors, who are parishioners with strong mana in the archdiocese. These mentors journey with the Candidates as they navigate the intricacies of their pastoral projects. Click here to see our list of Pastoral Mentors.
Pastoral formation also includes a year when a Candidate, usually upon the advice of the formator, takes a year of reflection to listen to the Holy Spirit as it speaks to their own lives and the needs of the parish. In this year, they take time off from pastoral projects and deepen their prayer life and seek meaningful conversations with parishioners, priests and individuals about life and the role of the Church in today's world.
Spiritual Formation
Te Hao Nui – Launch Out Candidates need to nurture a life of prayer. The Spiritual Formation helps the Launch Candidate integrate the lessons they learned from the Pastoral and Theological Formation, in the light of their discernment for ministry. Spiritual Formation nourishes their ministry and their personal lives. The Launch Out Candidate will be required to see a spiritual director once a month for at least ten months in the year, attend three Prayer Days, and one Retreat in a year. The cost associated with these activities is undertaken by the Archdiocese.
How do I apply?
Interested applicants can email the Formator and Manager, Maya Bernardo m.bernardo@wn.catholic.org.nz., to express interest. The applicant will be contacted by phone or meet up personally for a conversation, where Launch Out will be explained. The LO Formator and Manager would then send you the application form along with the requirements.
The prospective candidate submits a completed application form and the latest curriculum vitae. The application period runs anytime from January to October. Thus, an applicant must submit all requirements no later than the 15th of October.
Commencement to the programme begins in the year following the acceptance period (E.g. if you were accepted this year, you will start the following year). From thereon, the applicant becomes a Launch Out Candidate.

The Launch Out Programme produces a monthly publication called LOL (Launch Out Letters) which is the Archdiocese's Journal and Newsletter for Lay Leaders and Ministers. LO Candidates are encouraged to write their theological reflections on relevant Church topics and issues. LOL also offers resources that can be useful to parishes.
Meet Maya Bernardo, the current formator and manager.