Archbishop
Cardinal John Atcherley Dew DD
Biography


Born in Waipawa, Central Hawkes Bay, New Zealand – 5 May 1948
Educated at St Joseph's Primary school, Waipukurau; St Joseph's (now Chanel) College, Masterton; Holy Name Seminary, Christchurch (Philosophy); Holy Cross College, Mosgiel (Theology)
Ordained Priest at Waipukurau, New Zealand by Cardinal Reginald Delargey in May 1976
Appointments held as priest of the Archdicoese of Wellington:

St Joseph's Parish, Upper Hutt 1976 – 1979;
Diocese of Rarotonga, Rarotonga 1980 – 1982;
Archdiocesan Youth Ministry 1983 – 1987;
Cook Islands Māori Community 1983 – 1987;
Holy Cross College, Mosgiel 1988 – 1991;
Study in Spirituality, Institute of St Anselm, Kent, UK 1991 – 1992;

St Anne's Parish, Newtown 1993 – 1995
Ordained as Auxiliary Bishop for the Archdiocese of Wellington and Titular Bishop of Privata 31 May 1995
Appointed Coadjutor Archbishop of Wellington 24 May 2004
Succeeded Cardinal T S Williams as Archbishop of Wellington 21 March 2005
Elevated to Cardinal 14 February 2015, and appointed Cardinal-Priest of Sant'Ippolito Church, Rome.
Appointed Apostolic Administrator of the Diocese of Palmerston North on 4 October 2019.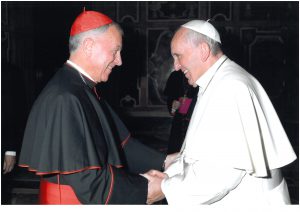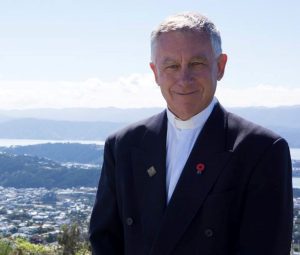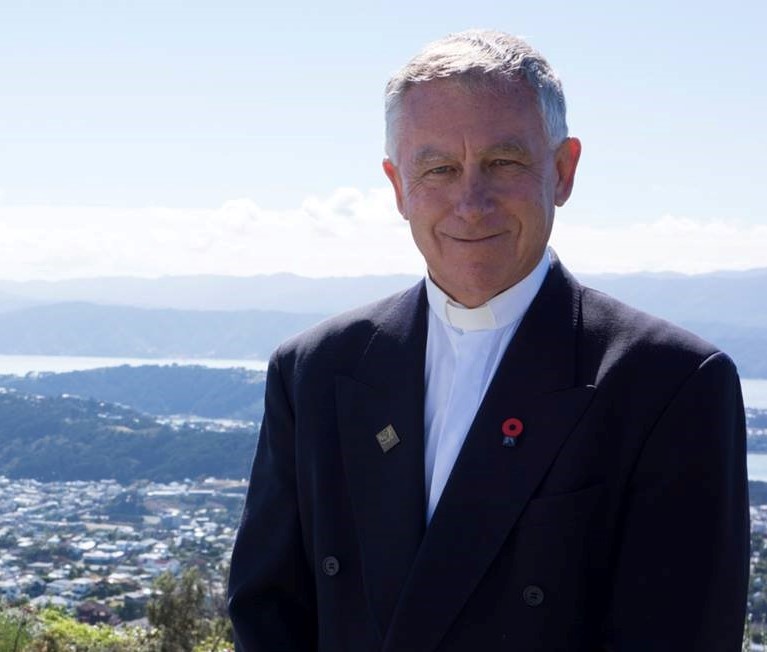 Currently
President, New Zealand Catholic Bishops Conference
Bishop of the New Zealand Military Ordinariate
Moderator of the Tribunal of the Catholic Church in New Zealand
Conference representative on the Catholic Bishops Committee for Ecumenism
Member of the Congregation for Evangelization of Peoples, the Congregation for Divine Worship and the Discipline of the Sacraments, and the Pontifical Council for Promoting Christian Unity.
Motto and Coat of Arms


When appointed Auxiliary Bishop in 1995, then Bishop John chose as his motto "Peace through Integrity" Baruch (5:4). This scripture quote appears on his current Coat of Arms with the traditional colours and symbols of a Cardinal, the Metropolitan Cross, a shepherd's staff (pastoral staff) and the symbols for ALPHA and OMEGA imposed over an open book of the scriptures.
---
Coadjutor Archbishop
Archbishop Paul Martin SM
Biography
Born in Hastings 5 May 1967
Attended primary school at St Joseph's Hastings and secondary school at St John's College, Hastings
In 1985 he entered formation for the Society of Mary.
In 1991 he spent time working in an Aboriginal Community in the Northern Territory, Australia
Ordained deacon: 15 November 1992
Ordained priest: 4 September 1993
In 1993 he completed a Baccalaureate in Sacred Theology from the Angelicum University of Rome and studied to become a teacher.
Archbishop Paul was in teaching roles for 18 years, including at St Bede's College, Christchurch and as Rector of St Patrick's College, Wellington .
In 2014 Archbishop Paul was Assistant Provincial and Provincial Bursar for the Society of Mary, before taking up the position of Bursar General in Rome.
He was appointed Bishop of Christchurch on 5 December 2017, and ordained Bishop on 3 March 2018.
He was appointed Coadjutor Archbishop of Wellington and Apostolic Administrator of the Diocese of Christchurch on 1 January 2021.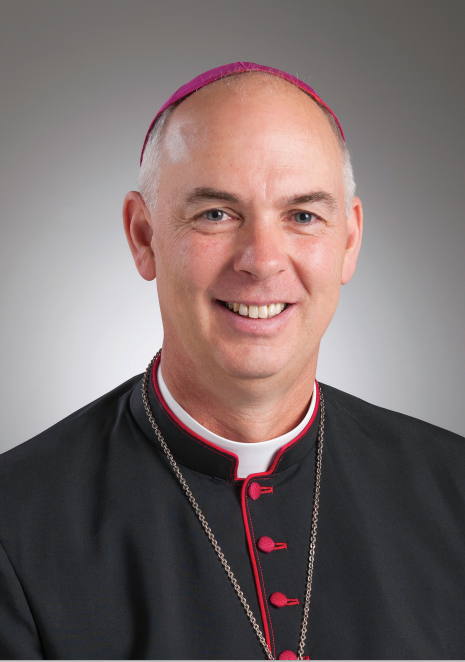 Motto and Coat of Arms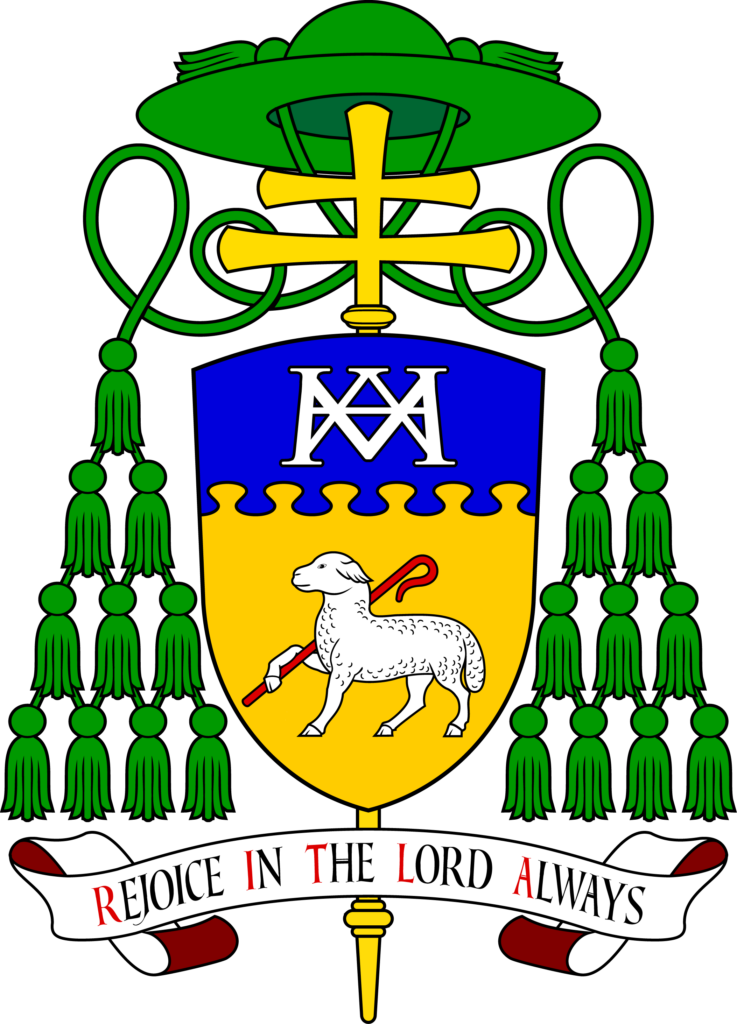 The Marian symbol (monogram) on the blue sky represents Mary and reflects the call of Mary to Bishop Martin to be a member of the Society of Mary which uses the Marian monogram in this form. The gold base depicts the lamb holding the crook and represents the Good Shepherd who cares for his sheep and seeks out the lost.
On a scroll below the shield is Bishop Martin's motto: Rejoice in the Lord always. (Philippians 4:4), which echoes the response of Mary in the Magnificat when she exclaimed, "my spirit rejoices in God my Saviour."
Archbishop Emeritus
Cardinal Thomas S Williams ONZ DD
Biography


Born in Wellington, 20 March 1930
Educated at Holy Cross Primary School, Miramar; SS Peter and Paul School, Lower Hutt; St Patrick's College, Wellington; St Kevin's College, Oamaru; Holy Cross Seminary, Mosgiel; Pontifical College, 'De Propaganda Fide', Rome (Theology)
Ordained in Rome, 20 December 1959
Appointments held since ordination: University College, Dublin (Social Sciences Degree) 1961 – 1962; St. Patrick's, Palmerston North 1963 – 1965; Director of Catholic Enquiry Centre, Wellington 1966 – 1970; Leulumoega, Western Samoa 1971 – 1975; Holy Family Parish, Porirua East 1976
Ordained Archbishop for the Archdiocese of Wellington in St Mary of the Angels Church, Wellington, on 20 December 1979
Created Cardinal in Rome on 3 February 1983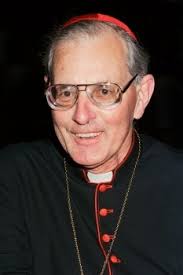 Awarded the Order of New Zealand 5 June 2000
Moderator, Tribunal of the Catholic Church for New Zealand.
Episcopal Deputy for: Finance Committee; prison chaplaincy; New Zealand Catholic Education Office; Catholic Enquiry Centre
Retired as Archbishop of Wellington 20 March 2005.