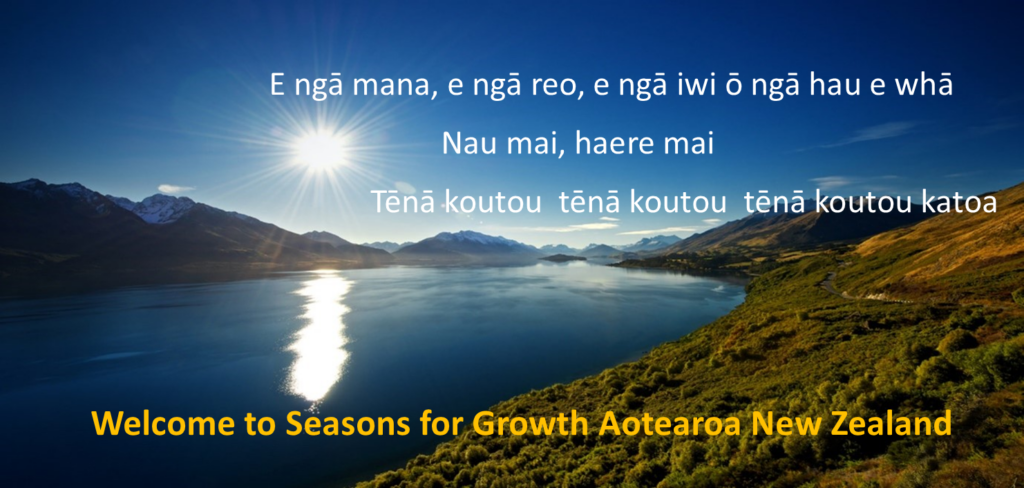 Seasons for Growth® aims to strengthen the social and emotional wellbeing of children, young people, and adults who have experienced significant loss and change, and to support individuals to adapt to what they are experiencing.
The metaphor of the four seasons provides a framework within which participants can explore their experiences of grief with others, develop skills and understanding, and restore self-esteem and self-confidence. This occurs in the safe atmosphere of small support groups facilitated by trained volunteers called Companions.
Details about Seasons for Growth can be found on the Good Grief website.
The licence holder for Seasons for Growth in New Zealand is Cardinal John Dew and the Catholic Archdiocese of Wellington. The licence is managed by the Seasons for Growth Aotearoa New Zealand Licence Council whose role is to train and support a network of Trainers and protect the integrity of the Seasons for Growth programmes.
We offer the full suite of Seasons for Growth programmes throughout Aotearoa New Zealand, the training for these programmes, and all the resources needed. If you would like more information, or to train in any of the programmes, please contact the region closest to you.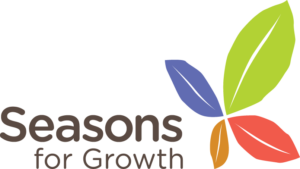 Contact details for New Zealand regions
Agency: Stand Tū Māia
Region description: 7 regions nationally
Contact name: Chris Procter-Abraham
Email address: Chris.Procter-Abraham@standforchildren.org.nz
Agency: Catholic Bishops Conference
Region description: Nationally in prisons
Contact name: Veronica Casey PBVM
Email address: vcasey@nzbc.org.nz
Agency: Lifewalk
Region description: National, for School Chaplains
Contact name: Rose Stanley
Email address: rose.stanley.nz@gmail.com
Agency: Catholic Diocese of Auckland
Region description: Auckland and North Auckland
Contact name: Liza Zapata
Email Address: liza@mefsc.org.nz
Agency: Anglican Diocese of Auckland
Region description: Franklin, Howick & East Auckland, Clevedon, Henderson, North Shore & Hibiscus Coast, Warkworth/Wellsford, Maungaturoto, Paihia/Kerikeri
Contact name: Claudette van Niekerk
Email: seasons@aucklandanglican.org.nz
Agency: West Auckland RTLB
Region description: West Auckland
Contact name: Jane Keir
Email address: cluster6manager@cwat.ac.nz
Agency: RTLB Cluster 10
Region description: South Auckland
Contact name: Tamara Gersbach
Email address: tamarag@rtlbcluster10.school.nz
Agency: Anglican Diocese of Waiapu
Region description: Bay of Plenty, Eastland, Hawkes Bay
Contact name: Carol Goldie-Anderson
Email address: carol.goldieanderson@acw.org.nz
Agency: Tauranga Moana RTLB
Region description: Western Bay of Plenty
Contact name: Marie Peterson
Email address: marie.p@takp.school.nz
Agency: Bishops Action Foundation
Region description: Waikato, Taranaki
Contact name: Judy Wood
Email address: newplymouth@seasonsfg.org.nz
Agency: Catholic Social Services Wellington
Region description: Horowhenua, Wellington, Hutt Valley, Wairarapa, Marlborough, Westport
Contact name: Jessica Ferroni
Email address: seasons@wn.catholic.org.nz
Agency: Anglican Diocese of Wellington
Region description: Whanganui South, including the Manawatu, and Wairarapa but primarily active in Wairarapa
Contact name: Alison Dye
Email address: seasonswairarapa@gmail.com
Agency: Central Otago REAP
Region description: Central Otago, Dunedin
Contact name: Mandy Greer
Email address: mandy@coreap.org.nz
Agency: Catholic Social Services Dunedin
Region description: Dunedin
Contact name: Christine Burgin
Email address: christine@cathsocialservices.org.nz
Agency: Stand Tū Māia
Region description: Southland
Contact name: Donna Clark
Email address: donna.clark@standforchildren.org.nz