Commission for Ecology, Justice and Peace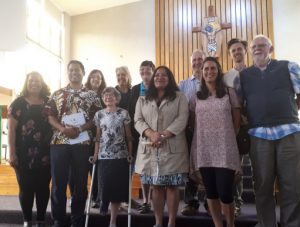 The Commission for Ecology, Justice and Peace – Te Kōmihana Whakatairanga Mātai Hauropi, Tika me te Rangimārie – serves the Catholic Archdiocese of Wellington and is an advisory group to our Archbishop, Cardinal John Dew.  The members of the Commission are appointed to support the parishes and communities of the Archdiocese of Wellington to work for justice and peace.
In 2019, following reflection on the Archdiocesan Synod 2017 recommendations and Pope Francis' teaching on caring for creation, the Commission has been given a new name, mandate and structure. The key responsibilities of the Commission are:
Supporting the communities of the Archdiocese and wider community to hear and actively respond to the cry of the earth and the cry of the poor;
Scrutinising all issues and institutions in society and in the Archdiocese in the light of Catholic social teaching
Encouraging and enabling the people of the Archdiocese to collectively deepen their understanding of the "peripheries" in order to respond and take action for change.
For more information, please contact the Ecology, Justice and Peace advisor l.beech@wn.catholic.org.nz