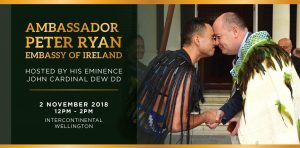 On Friday 2 November, Ireland's first Ambassador to New Zealand, Mr Peter Ryan, will take the opportunity to meet with community and business leaders at the Cardinal's Lunch in Wellington.
After arriving in New Zealand with his wife Teresa and their two daughters in August, Ryan was recently received at Government House, complete with a pōwhiri and guard of honour from the New Zealand Defence Force.
Connections between the two island nations run deep. In his official address, Ambassador Ryan spoke of the "rich contribution" of Irish women and men to the development of this country.
Ryan noted there are approximately 15,000 Irish-born citizens in New Zealand and many hundreds of thousands more of Irish heritage. These include the County Laois roots of Governor General Patsy Reddy, the first Governor, William Hobson; Thomas Bracken who wrote the words of the national anthem; Archbishop Croke (immortalised by Croke Park) who served in Auckland; and Irish-born, Dave Gallagher, Captain of the first All Black touring team.
When asked in an informal interview with Archdiocesan staff why it had taken so long for Ireland to have an official presence in New Zealand, Ryan was quick to give his own insight, "Ireland was only ready to establish an Embassy in New Zealand after we beat the All Blacks. It just took 111 years."
Despite the disenchantment felt on the field, Ryan proves he is a good sport and mentioned that his love of both countries makes his appointment here a special privilege. He looks forward to these "small dynamic island nations" strengthening their cultural, social and economic ties.
Prior to his appointment as Ambassador, Mr. Ryan was Ireland's Consul General to Hong Kong and Macau from 2014-2018, after serving as Deputy Consul General, Economic and Public Affairs in New York from 2011-2014. Ryan holds a Master of Arts in Political Science and Government from University College Dublin.
Ryan attributes the influence of his strong Catholic roots and early education to his later interest in diplomacy and international relations. Ryan has two uncles who were called to a life of religious mission – one a Jesuit priest, another a religious brother.
"In Ireland we grew up with a missionary focus. In school we learnt of our contribution to missionary areas such as Australia, New Zealand and Africa," Ryan says. A life of mission was instilled in the education he received not only at St Louis Senior Primary School by the St Louis Sisters, at the prestigious Synge Street School by the Christian Brothers and later at Belvedere College S.J., an independent Jesuit all-boys secondary school.
Now on the other side of the world, Ambassador Ryan and his family will call St Mary of the Angels, Wellington their home parish. In a relaxed setting at the Intercontinental Hotel Ambassador Ryan will share his story of growing up in Ireland, his rewarding experience of a Catholic education and his gratitude for his faith and family that has helped him to humbly pursue a successful diplomatic career.
As many as 200 active and retired professionals are expected to attend this event hosted by Cardinal John Dew on Friday, 2 November.
Seat or table bookings are available online: cardinal-s-lunch-nov.lilregie.com. To find out more information or to book a table, please e-mail event@wn.catholic.org.nz or call Robyn 0272018766