Wel
Com
November 2018: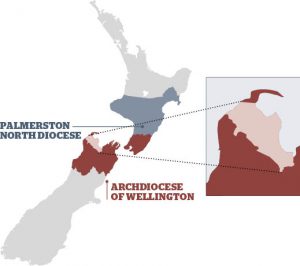 The Parish of Our Lady of the Bays is located at the top of the South Island and is bounded by Nelson, Tasman Bay and Golden Bay in the North and Kahurangi National Park and Mount Richmond Forest Park. The economic base includes farming, horticulture, hops, wine, forestry, fishing, tourism and artists. The pastoral community includes five Catholic communities, which were amalgamated to form a new parish 12 months ago. The parish celebrated its first anniversary Mass and parish picnic at St Peter Chanel Church in Motueka on Sunday 28 October 2018.
---
Brief History
1842: Early Catholic families settled in Waimea West, including Redwood, Tomlinson families. The O'Connor family from Ireland came in 1849.
1844: Fr O'Reilly celebrates first Catholic Mass in Waimea West in Redwood family home. (Fr O'Reilly based in Wellington, attended Catholics in whole Nelson region.)
1850: Fr Garin sm appointed parish priest of new parish of Nelson.
1854: Francis Redwood, youngest son of Redwood family, left for France to study for priesthood.
1855: Ss Peter and Paul Church at Waimea West opened.
1856: Land purchased in Richmond for building a church. Mass celebrated in family homes.
1868: Catholic Church four kms south of Takaka township.
1870: St Joseph Church, Wakefield, blessed and opened by Fr Garin.
1879: St Francis Church, Moutere, blessed and opened by Fr Grain. (Later sold and removed.)
1898: New Ss Peter and Paul Church at Waimea West erected.
1917: Church of Blessed Peter Chanel, constructed in Motueka. First marble church in Australasia.
1918: Sacred Heart Church Takaka consecrated by Archbishop Thomas O'Shea. Constructed of local marble and locally-milled rimu for ceiling. Remains oldest marble church in New Zealand
1935: Marists leave and parish administered by Diocesan clergy. Waimea West became part of newly created Parish of Motueka. Fr E Carmine first Parish Priest.
1939: Purchase of a hall in Oxford St, Richmond, for Masses.
1950: Fr M Bradford appointed parish priest of Motueka.
1955: Centenary year for St Joseph's Church, Waimea West.
1957: St Peter Chanel School opens in Motueka (school, founded by the order of the Sisters of St Joseph, originally started in an old stable).
1960: Richmond with Stoke, Wakefield, Waimea West and Tapawera became a separate parish from Nelson and Motueka. Fr Bradford parish priest.
1965: Land purchased in Salisbury Rd, Richmond for future school.
1976: Our Lady of Perpetual Help Church, Richmond, opened.
1985: St Peter Chanel (marble) Church closed as too small for parish. A new larger St Peter Chanel Church built, Motueka.
1999: St Paul's Catholic School, Richmond, opened by Cardinal Thomas Williams.
2017: Newly amalgamated Parish of Our Lady of the Bays commences.
---
Our Lady of the Bays Catholic Parish – Te tatou wahine o ngā whangapariha Katorika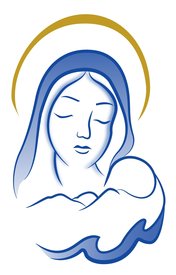 Our Lady of the Bays Catholic Parish became a new parish in 2017 from five amalgamated parish communities: Our Lady of Perpetual Help, Richmond; Ss Peter and Paul, Waimea West; St Joseph, Wakefield; St Peter Chanel, Motueka; and Sacred Heart, Takaka. The parish has two Catholic primary schools, St Peter Chanel in Motueka and St Paul's in Richmond, closely supported by Garin College in neighbouring Stoke.
Largely rural, the area's demographics have changed in the last 20 years. A number of people having moved to the region from Auckland and other parts of New Zealand as well as new migrants including a large Filipino community, former refugees, and seasonal horticulture and viticulture workers from Pacific Island nations. Communities from Tonga, the Solomon Islands and Samoa regularly sing at Masses.
Parish priest Fr Seph Pijfers, who lives in Richmond, travels throughout the wide parish area on a weekly basis and is supported by Fr Andrew Kim, who lives in Motueka. Fr Seph has been in Richmond for two and a half years and Fr Andrew came from Te Awakairangi Parish, Lower Hutt, earlier this year. Between them, they celebrate Saturday/Sunday Masses in the five communities and weekday Masses and rosaries, regularly visit the Catholic schools in the area and offer pastoral support where needed. Jovanie Leones, a fourth-year seminarian, on a six months' pastoral experience, also lends his support. Together they work closely with the parish councils, parish teams, and parish ministries.
Parish ministries include meditation groups, mothers' prayer groups, Passionist Family groups, adult education and religious studies, elderly support, men's groups, Eucharist ministries, social justice groups, ecumenical groups, busy St Vincent de Paul conferences serving needs from Richmond, to Motueka and Takaka, and many more.
Fr Seph says a year on from the amalgamation he sees definite benefits in the five parish communities working together when there is a reduced number of priests.
'Each community has its distinct character and story. However, being parish priest across such a large area means it takes longer to develop intimate rapport with people. I use homily time to engage with the communities around the key places to find out what's important to them and get their feedback for us as a combined parish so we are not caught up in our own world view.
'We have to be realistic about the circumstances of the Church at the moment with fewer priests. Our challenge is bringing the communities together. A way forward is about connecting with each other ‒ between parish and community, between our leadership groups, between our lay leaders. Each church community has a leadership groups under the auspice of a parish council and finance committee. Collectively, we have put out a pastoral plan for consultation and we hope it will deliver effective outcomes for our parish over the next 10 years.
'I've been very inspired by our parishioners who have pulled together and offered their talents to do the best they can. This is a time to draw on our resilience in faith and allow new needs to emerge with a deeper and more mutual relationship with our faith in God.'
Fr Seph says that Sacramental life in the Church is very important. When we get lost in the bigger world, the sacraments offer resilience. 'Here I am Lord with all my human frailties.'
Karen Moynagh, Spiritual Director of Richmond says, 'We are very fortunate to have Fr Seph.
He gives wonderful homilies in which he speaks to us from the heart, not the head. And with Fr Kim and Jovanie we are lucky to have three different speakers who are all good.'
---
Pastoral Plan
Maria Archer
Our parish has been in the process of preparing a Pastoral Plan to help us achieve a sustainable future. The aim has been to help our newly formed parish discuss and communicate where we are going and to detail how we are going to get there as a faith community. We want to produce a plan to help us articulate about how we grow in our faith as a parish, and to help us in our desires to know God better, to love each other and to evangelise.
Our planning process has had Synod outcomes as its starting point. After a few weeks of information being communicated to the parish community, we had five feedback sessions ‒ one at each of our churches. As a result, we have received nearly 1000 comments, suggestions and pleas. There was a lot of feedback asking for discussions or workshops to learn more about our catechism, our faith and our church, current events and information on other faiths. Other requests have included a wish for our communities to really get to know each other better and for a youth group to be set up.
The 1000 suggestions have been distilled into 22 themes and 44 different tasks with dates for completion spread over the next 10 years. The Parish Council has endorsed the draft plan, which is now out for consultation. The whole process will have taken some six months by the time the plan is completed at the end of this year and presented to the Parish. Then the work of delivering it will begin.
"There is nothing more constant than change" ‒ Heraclitus, 525 BC.
---
Takaka
The Catholic community of Takaka and Golden Bay has a supportive group of parishioners, says Sheryl Nalder. Everyone participates in some way between the readings, the collection, overheads, preparations before and after Mass, with music, and ground care. We try to make people feel welcome and look out for anyone visiting. We are feeling positive about the amalgamation. People have come together really well to make it happen. Takaka also has a strong ecumenical community.'
'In September we went out as a community to celebrate 100 years of our church' says Rosie Astil. The iconic marble church was consecrated in 1918.
Not currently used for church services, it is maintained by a group of volunteers. The church is in need of some structural strengthening and a fund-raising project has been set up (ourladyofthebays.org/takaka.html).
---
Fr Andrew Kim
'I've been a priest for five or six years now and being in Motueka is a good opportunity for me to experience different kinds of pastoral work among the approximately 225 parishioners. Numbers differ in the holidays with lots of visitors. People love to have a cup of tea and a chat after Mass. We also have a lot of orchard workers from Tonga, Samoa, Solomon Islands and Vanuatu working here over summer. I really like being in a small community and being next to the school allows me to visit often and the children get to know me. The school has a strong community and there is a strong ecumenical faith here.
---
Motueka
Parishioners at St Peter Chanel Church come from Motueka, Upper Moutere, Kaiteriteri, Lower Moutere and Riwaka.
'Our church community should really be called a church family because everyone who comes here are all one faith and we all know each other's names,' says Anne Lane. 'This is partly through Fr Andrew who encourages us to say hello to each other. Fr Andrew sermons are very good, and he is bringing new ethnic groups into the parish community, and with that, more young people.'
John Leydon says, 'We have an ageing population and that impacts on the parish. Many of the people active in the parish live outside of Motueka and they have stepped up for our many parish ministries.'
The SVdP helps with food vouchers for people struggling to feed families and arranging for them to go to budget advice services; and working bees to split and deliver firewood collected and stored in the church grounds.
There is also an orchard in the grounds, maintained by parishioners who harvest the cherries and apples to provide parishioners after Mass.
---
Waimea West
Ss Peter and Paul Church at Waimea West was first built in 1855. Fr Garin was the original parish priest for the area. In 1898 he had the deteriorating church pulled down and a new one erected on the same site, where it remains today. Parishioner Margaret O'Connor says about 20 Catholic families came from Moutere, Mahana, Mapua and Wakefield, until Wakefield got its own church. Today Mass is on the fourth Saturday of each month, attracting a nucleus of about 40 regular attendees. There is an historic cemetery in the grounds with a plaque in the lychgate listing the names on the graves and when they died. In 2005 the church's 150th anniversary was celebrated. It is 'the pick of the places for people to get married in,' says Margaret.
---
Wakefield
Locals are proud of their church in Wakefield. St Joseph's Church was blessed and officially opened by Fr Garin sm on 7 May 1870; 250 people attended. Wakefield is an historic settlement with streets named after early settlers' boats to Nelson – Wakefield, Pitfure, Arrow, Clifford among them. The farming community of about 2000 has seen a change with newcomers commuting to Richmond, Nelson and Motueka, an expansion in forestry and land being converted from dairy farms to hops. Erin Powick says there's a number people with original family connections still living in Wakefield and that gives a sense of continuity in a transient world. Today families continue to sit in the same pews at church every week, where it's a real family atmosphere. If someone isn't there, people asked what has happened. Brian Duncan says everyone catches up over a cup of tea after Mass and people are very supportive of SVdP, bringing baskets full of food every Sunday. Willie Simpson takes a service at the resthome every six weeks and Eucharistic Ministers visit every Sunday to look after the residents. Brian says the community has been blessed with the number and quality of priests who have been very connected to the people over the years.
---
Richmond
The St Vincent de Paul shop in Richmond is a community hub with a daily hive of activity among volunteers and staff collecting and delivering food, clothes and goods to help those in need. The team also work closely with the Kai Rescue Group – a local community initiative – who twice a week bring in fruit, vegetables, milk, cream and more.
St Paul's School and Garin College, Passionist Family Group members, other parish communities, and local businesses are all involved with collecting and contributing to help those in need.
Peter Williams, immediate past president, says you can find people's circumstances today can change so suddenly and they need assistance. 'We have a great group of about 80 volunteers from all around the region and of all denominations. I believe we are the jewel in the crown of the Richmond Catholic community with all these people wanting to help. 'We keep an eye on people in need – whether they are faith-based or not, says Peter.
Another example of the interactive community is the 'Hamper Mass' in December. In the lead up to Christmas 80 banana boxes are covered with Christmas paper, and parishioners bring goods each week. The Passionist Family Group, St Paul's School, and Garin College all join in. At Hamper Mass all goods are placed before altar. This year Elizabeth Williams will supervise the packing of boxes and SVdP will deliver them to the community.
Last year, Richmond and Nelson SVdP conferences were invited to take part in a pilot CORS scheme to co-sponsor a refugee family. This has involved supporting a couple from a camp in Lebanon, by assisting them from Auckland to settle in Nelson in July and working alongside them over the next two years.
---
St Peter Chanel School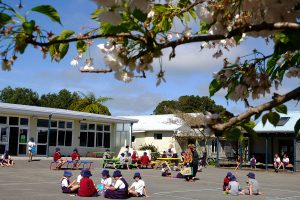 St Peter Chanel School in Motueka is a small school for Year 1-8 students. There are three classrooms with a current roll of 67 students. Catholic faith and values are important to the school community, which shares close links with St Peter Chanel Catholic Church next door.
Children are encouraged to show compassion and care for one another through the school's CLEAR values – Connected, Loving, Excellent, Active, Respectful – 'signposted' around the school.
Opened in 1957, the school fosters a family atmosphere. Parents are encouraged to participate and there is an excellent relationship with the parish whānau.
Principal Margaret Campbell-McCauley has been at the school for five years. She says there is a real focus to strengthen the tie between the parish and the school. 'We see the children as the future of the Church so it's a blessing the Church is alongside the school property. With Fr Andrew here since the amalgamation, having his regular presence, enhances our vision.'
---
St Paul's School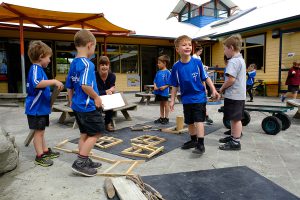 St Paul's School opened in 1999 with 47 students in three classrooms. Today the student roll, staff numbers and the building complex have expanded considerably reflecting strong community support for this values-based Catholic school.
In the last two years the school roll has grown about 70 per cent says principal Maureen Phillips. The school is leading the way and attracting attention from other teachers nationally about its approach to real-world learning experience. Maureen says the Ontario-based curriculum philosophy allows children to develop key competencies through applied 'learning by doing', which sets them up for life.
'We combine learning opportunities with our Catholic character. This year our RE theme is: 'Who we are in the World Matters Most.' The children understand that every action they take or word they use has an impact. Therefore, they realise their actions can be really positive, for example constructing something or learning to work with others.
We work closely with Garin College and their students are often on site coaching our local teams for tournaments or supporting us generally. The collaboration between the Catholic schools at the top of the South Island is very strong and the principals all meet in a different area each term. The collaboration includes our priests Fr Seph, Fr Andrew and Fr Bill Warwick whose presence is an equally authentic part of our school.