Palmerston North
Fr Kevin Neal
31 March 2012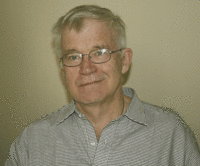 It's more than six years now since I had my stroke.
No, I'm not going to write about it, but I mention it because it's part of another story. It's about an event that occurred about two years before the actual stroke. I was feeling pretty terrible and invited Claire Whareaitu to join the parish staff to ease my way through the heart problems. She did most things except say Mass. So when the stroke happened she was able to keep the parish running very well indeed.
She continued running the two parishes until another priest was found for Stratford/Eltham. When that happened she slipped into the background and took up the position of chaplain at Sacred Heart College New Plymouth. I realise this is squeezing a huge amount history into a few lines! But I think this is roughly how it happened. I was flat on my back at the time so the details are hazy.
Sometime later, I moved to Taradale and Stratford/Eltham slipped from my radar. Occasionally I ventured across to Taranaki and slowly it dawned on me that Claire wasn't all that well. The years went past and it became quite clear that all was not well at all. She would have these massive headaches and she just wasn't her old self any more. She was able to keep going but it was harder and harder. I could see that from our visits to each other. I think the doctors had only a vague idea of what was wrong for a start.
Slowly the usual explanation for king-sized headaches was tested and found wanting. It wasn't a migraine or anything like it. It sounds a little bit bizarre but a migraine didn't work at all because the word 'migraine' was far too mild!
Then one of the doctors suggested a MRI scan. This revealed all. I can't explain the problem but it was in need of an operation of some considerable care and Claire went on a waiting list at Wellington hospital. There wasn't much of a wait and 10 thousand prayers must have been prayed for her and the doctors because success was not a foregone conclusion. The outcome could have been like a stroke.
But the operation was a success. When I visited her in January I found a new person. It's wonderful to see someone whose life is renewed and hope completely restored. Best of all, the horrendous headaches are gone.
By some mistake I arrived a day early. A cell phone call – could I give her a chance get home! So she drove for three hours from Hamilton to meet me. Before the operation she would not have crossed town.