WelCom September 2016:
News
The Missionaries of the Charity Sisters, Porirua
With the canonisation of Mother Teresa in Rome on 4 September by his holiness Pope Francis, many may be asking, 'What is a Saint?' and 'How does someone become a Saint?'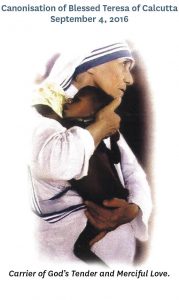 Even during her lifetime, to those who referred to Mother Teresa as the 'Living Saint' she would reply, 'We are all called to be saints'. She would insist that 'holiness' is not the luxury of the few but a simple duty for you and me.'
She would tell her Sisters, 'I want you to take the trouble to be really holy, not in big things, for we do not have big things to do, but the smaller the things the greater the love.' She would tell us that all we do must be done in union 'with Jesus for Jesus, to Jesus.' She echoed the message of Vatican II that all Christians are called to holiness,
All of us must be ready to answer this call every day – as our four sisters who were slain by gunmen in Aden, Yemen, on 4 March this year, remind us. They were ordinary sisters who daily cared for 80 sick and elderly patients in our home in Yemen and yet with God's grace were willing to stay, knowing the danger they faced. Pope Francis called them 'modern-day martyrs' who 'gave their blood for the Church'.
Although we may know many who are with God in Heaven, in the formal sense of the Church, saints are those who distinguish themselves by heroic virtue during their life and whom the Church honours by a solemn definition called canonisation. This implies that the person is now in 'heavenly glory' and may be publicly invoked by the Church; and that their virtues during life of a martyr's death are a witness and example to the Church (Pocket Catholic Dictionary, John Hardon SJ).
Part of this process requires the recognition of a 'MIRACLE' worked through the intercession of the saint. A miracle is considered to be an intervention of God that goes beyond the laws of nature and generally involves a physical cure. A team of medical experts must examine the cure and three of the five must affirm:
that the cure was instantaneous;
that it was complete;
that is was permanent;

that it is scientifically inexplicable.
This is then presented to a team of theological experts who submit their judgement to the pope for his final approval.
For Mother Teresa, the road to canonisation began in 1999, when Pope John Paul II allowed the 'cause' for Mother Teresa's beatification to begin less than two years after her death on 5 September 1997, instead of the usual five-year waiting period.
First miracle: The cure accepted as a miracle for Mother Teresa's beatification involved the healing of a woman named Monika Besra from a village in West Bengal, India. The woman had a large abdominal tumour, which doctors were unable to cure. The woman's family brought her to the Missionaries of Charity Sisters home as a last resort.
On 5 September 1998, the first anniversary of Mother Teresa's death, the Sisters prayed at Monika's bedside, placing a miraculous medal – that had been touched by Mother Teresa's body – onto Monika's stomach. They prayed a simple prayer for Mother Teresa to heal her. Monika looked relaxed and peaceful. At one o'clock in the morning, she woke up feeling lighter and with no pain. She touched her stomach and could feel the tumour was gone.
Second miracle: The second miracle required for canonisation concerns the miraculous healing that took place in 2008 in Santos, Brazil, involving a man in hospital with a viral brain infection.
The treatments undergone were not successful and his condition progressively worsened. By 9 December 2008, he was in a coma and dying. Doctors decided on emergency surgery but when taken to the operating room at 6.10pm, his condition would not allow the doctors to proceed.
Since March that year, the man's wife had prayed continuously to Blessed Mother Teresa for her husband's cure as did their friends, relatives and the parish priest. Now, on this same day, as he was taken for surgery, the man's wife went to her parish church and together with the parish priest, prayed earnestly for the cure of her dying husband.
At 6.40pm the surgeon returned to the operating room and found the patient inexplicably awake and without pain. The patient asked the doctor, 'What am I doing here?' The next morning, he was examined by the doctor and found to be fully awake, without pain and with normal cognition.
The man was now able to resume his work as a mechanical engineer without any physical disability. Despite previous tests that showed sterility, the couple now have two healthy children born in 2009 and 2012.
Mother Teresa was called by Jesus to be His light by her heroic life of love of God and neighbour. It is now our turn to live out our vocation as 'a child of God' created in the image of God, created for greater things, to love and be loved.'
St Teresa of Calcutta, Pray for us.