When former Sacred Heart College student, Miriam Davie, married Matt Bayliss last month, a goat, food baskets and money for charity replaced the usual raft of wedding gifts.
Guests were told that Miriam and Matt 'would like to share our good fortune and ask you not to bring gifts but to bring a donation for the food bank'.
Miriam's mother, Anne Davie, said people brought food and baskets and some people brought cheques.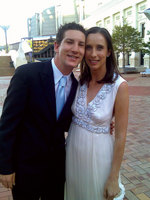 Miriam and Matt who are at present working in Oxford, United Kingdom, also received a note from friends there informing them that the UK charity, Oxfam, had given a goat to a village in Africa and another about a water pump for another village in the Third World.
Anne said the idea came from a drive by Oxfam to encourage people to forego Christmas presents in favour of donations to the charity.
Miriam has a well developed social conscience from her time at Sacred Heart in the Hutt and is a member of Amnesty International. With husband, Matt Bayliss, she also works with a refugee support committee, as respite from her day job as a lawyer.
At the wedding at St Mary of the Angels in Wellington, guests were able to deposit their gifts in a huge flax basket made especially for the occasion.
'People participated enthusiastically and it was really enjoyable.
'They felt very lucky to be coming home to our wonderful New Zealand and having a wedding with family and friends and they didn't need gifts.'
Miriam and Matt have had three years working in the UK but will return to New Zealand at the end of this year.