When Jesus launched his movement for a civilisation of love in the heart of the world, he realised that he needed chiefs—leaders. Even today, the movement that we call the 'church' needs men who, as in the time of Jesus, will accept the call to serve as leaders. We call them 'priests'.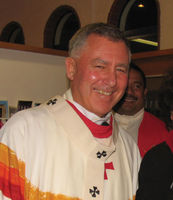 This Year of the Priest gives us a wonderful opportunity to reflect on priesthood, on the privilege it is to serve God's people as a priest to also think about how we might ALL promote vocations to the priesthood.
Time and again I hear priests say that their call to serve in the church usually came from the inspiration of another priest or because a priest, a teacher, a parent or some significant person invited them to think about becoming a priest. That I believe is something we are all able to do—ask someone to at least think about priesthood.
Have any of you Wel-com readers asked or invited someone to reflect on such questions as:
Do you have what it takes to become a chief, a leader?
Have you a vision of what the world should be, a world of justice, of joy and of peace?
Do you believe that there are things to change in our world – that we have to transform it according to the spirit of Christ?
Do you enjoy working with others, to help them to grow, to become more alive, more loving?
Would you like to walk in Jesus' steps, to love like him, to give your utmost to the very last just as he did?
Would you want, as Jesus did, to accompany people in their times of suffering and trials so as to remind them of their dignity and fundamental worth?
Do you see yourself as leading a community in prayer, in faith and in sharing?
It may be that a question or two put to some young man may inspire him to think of priesthood, or it may be that you actually affirm this young man and tell him that you recognise such gifts and qualities in him. Your words might change his life. I believe that we all have a role to play in helping others to come to know the overwhelmingly attractive figure of Jesus and to be stirred by the challenge of the gospel's sublime ideals. When we help them to know Jesus they will respond to his call.
On the last day of August this year during the Sunday Angelus, Pope Benedict XVI reminded parents that their children could discover their vocation to the priesthood or to a consecrated life if they are educated generously and have help in finding God.
The pope said, 'Christianity's history is full of innumerable examples of saintly parents and authentic Christian families that have accompanied the lives of generous priests and pastors of the church'.
I ask Wel-com readers to consider inviting young men and women to think about priesthood and religious life. In this Year of the Priest I ask you to reflect deeply on the gift of ordained priesthood and to ask others to think and pray about living out their baptism as ordained priests.
I leave the last words to Pope Benedict.
In this Year for Priests we pray so that by way of the intercession of the Curé of Ars, Christian families can become small churches where all vocations and charismas, given by the Holy Spirit, be accepted and valued.