Sister Frances Gibbs has belonged to the Order of Brigidine Sisters for the past 52 years, and has touched the lives of hundreds of people in a very special way. Over the years she has been an active blood donor, and also cared for those who needed blood.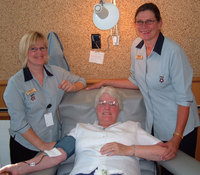 For the past few years Sister Frances has been a pastoral worker for St Mary of the Angels, visiting the sick – people in hospital and those living in confinement – but her history of caring for others goes back to 1974 when she became a registered community nurse. She specialised in neurosurgery at Wellington Public Hospital for 28 years, and during this time she decided to become a blood donor.
'It just made sense to me, as I saw the need for blood and plasma everyday in theatre. It's so easy to take these things for granted and a lot of us did – blood was always on hand for staff to use and was vital to the survival of our patients. I used to wonder who had given the blood, and this curiosity helped me to make up my mind about becoming a donor.'
At age 37 she started on a journey that would continue for the next 33 years. By the year 2000, she had made a staggering 102 whole-blood donations, and decided to make a deeper commitment to the Blood Service by becoming a plasma donor. Since then she has given more than 60 plasma donations.
Plasma makes up about 55 percent of the blood volume, and is a blood component that donors can donate every two weeks, although most donate monthly. Currently the Blood Service makes 13 different products from plasma; products such as Factor 8 which is used to treat the symptoms of haemophilia; immunoglobin, which is used to boost compromised immune systems, and albumin used for the treatment of shock, burns and severe liver and kidney disease.
When you take into account that each donation can save the lives of up to three people, Sister Frances has helped to save the lives of hundreds of people. But for Sister Frances it's been a simple act of compassion.
'I've been blessed with good health and it's something I can do for the community.'
Turning up every month for an hour hasn't inconvenienced her in the least. 'It's become part of the pattern of my life now,' she says. 'I've made some tremendous friends through my years of donating at the Blood Service. The staff are wonderful and some I've known for nearly 35 years.'
Donors can give plasma only until their 70th birthday, so early in February Sr Frances made her last donation. She is sad that this part of her life is over, but she is keen to continue to help the service by encouraging others to take up where she has left off.
'I'm always saying to young people that if they really want to make a difference, become a blood donor. Our health is a very special gift and people who become donors come to appreciate this.'
She wishes more people could understand the importance of giving blood.
'If only they could see the benefits of the products that the Blood Service creates they would realise how great the need is for more people to become involved.'
For more about becoming a blood donor: 0800 200 430 or www.nzblood.co.nz
Lesley Fazakerley is Wellington Team Leader of Donor Recruitment.