Palmerston North
2 August 2012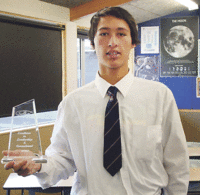 On June 18-22 the New Zealand Blue Light organisation ran a camp at Trentham aimed at 'creating an environment where young people could experience and practise life skills in a challenging but safe and supportive environment'.
The purpose of these camps is to take young people and build their self-esteem while also developing a positive partnership among youth and police. Te Hau Te Wake was one of those students.
The Trentham camp attracted around 30 students. They were put through a variety of challenges aimed at pushing them beyond what they thought they were capable of achieving.
A team of dedicated Defence Force instructors supported by police officers led the camp.
To succeed the students needed to learn to work together in teams and experience 'team-work at a high level'. The students are put into situations designed to make them take a hard look at what they believe about themselves.
They learn the life skills that will help them overcome the challenges they face in everyday life.
Cullinane College, Whanganui, student, Te Hau Te Wake, attended the camp near the end of Term 2 and achieved the Top Student award over the other 29 'competitors'. With such affirmation he has returned to college with a new attitude and focus.
His teachers say Te Hau's attitude in class has improved immensely and he has shown a greater confidence in his class work and in his dealings with others in the school community.
Deputy principal Martin Bullock says Te Hau is now making fantastic progress and is an excellent role model to other students.
Image: Te Hau Te Wake with his top student award.