WelCom December 2020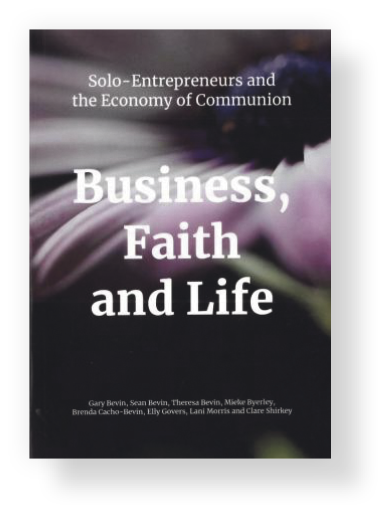 Faith in Business: Living the Economy of Communion is a booklet with personal accounts from eight self-employed people in Aotearoa New Zealand who have integrated the international Focolare Movement's 'Economy of Communion' principles into their lives and business practices.
The authors – seven in Napier and one in Auckland – are Gary Bevin, Sean Bevin, Theresa Bevin, Mieke Byerley, Brenda Cacho-Bevin, Elly Govers, Lani Morris, Clare Shirkey. They describe how they operate their enterprises through the 'culture of giving', rather than the 'culture of having', and how the Economy of Communion (EoC) has enabled live their faith in their business practices.
In 1991, Chiara Lubich, founder of the Focolare Movement, explained EoC. 'Unlike the consumer economy based on the culture of having, the Economy of Communion is based on the culture of giving. This might seem to be difficult, ambitious, heroic, but it is not so, because human beings, made in the image of God, who is love, find their fulfilment in giving. This need is in the deepest recesses of their being, whether they have faith or not. On this basis, supported by our experience, lies the hope of the universal spreading of the Economy of Communion.'
In the foreword, John Mundell, President-CEO of a USA-based EoC business, writes, 'Within these pages, you will find eight truly unique and beautiful "gems" of first-hand accounts, filled with keen insights, subtle intuitions, and moments of honest reflections of living out the Economy of Communion principles at work.'
Economy of Communion is a way of life, with its principles relevant to people in any type of business. The authors hope their booklet will help small business owners and others considering self-employment or establishing small business operations.
Contact Elly Govers at elly@ellyandgerard.nz for copies of the booklet, cost $15 + p&p. Proceeds to be distributed to help people in need.