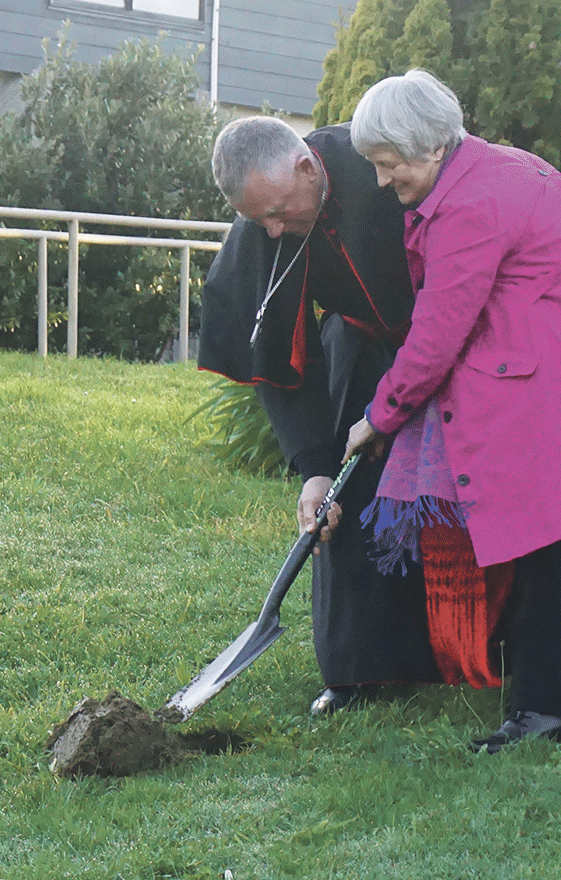 September 2015
News
Annette Scullion
Cardinal John Dew led the early-morning blessing of the site of a new teaching and administration block for St Catherine's College, Kilbirnie, on Wednesday 26 August.
Cardinal John praised the college's students for their commitment to education.
'Your passion for knowledge and commitment to mercy is laying the foundation for a life full of discovery, achievement and service,' he said.
'Today, the image of two Catherines – Catherine of Siena [scholastic philosopher and theologian] and Catherine Elizabeth McAuley [Irish nun who founded the Sisters of Mercy in 1831] – is of women on the move inspiring young women.
'Here the Sisters of Mercy and all at St Catherine's College continue to inspire and extend young women on the move today.
'I'm delighted to be here to break this ground and turn this sod and I wish all young women on the move every joy and blessing.
'E Te Atua Atawhai, God of Mercy, yours is the earth and all that is in it. And in your goodness you have trusted it to our care.
'We ask you to bless this land today. May it be a place where your design for our student's lives are wisely discerned and nurtured.
'We ask your blessing and safety for all who will work on this new building.
'May they be filled with your strength and peace as the labour to bring to fruition the plans you inspire for this block.
'May all who eventually pass through its doors be filled with the joy of your abiding presence as they work and learn in the light pf our Catholic faith. We make this prayer to you, in the name of Jesus Christ, our Lord, Amen.'
The new 1,160m2 building is expected to be completed mid-2016. Naylor Love, the main contractor, says more than 100 builders and sub-contractors will be involved in the $3m project.
'A school project is always special,' said Mike Fitzharris, Naylor Love's project manager. 'We know we are, quite literally, building the country's future.'
St Catherine's College is one of five integrated Catholic girls' colleges run by the Sisters of Mercy's Tiaki Manatū Ministries Trust.
Sr Sue France says education has been central to the Order's mission in Aotearoa New Zealand since 1850.
'Education is a key to unlocking the precious potential of every human being.
'We are humbled to be able to support a building that will serve the Wellington community for many generations to come.'
Bless this ground that gives of itself to support this structure – the earth teeming with life – and the soil that calls forth our own mortality.
May this building live lightly on this earth, using resources sparingly and respectfully.
E te Ariki…whakarongo mai ra ki a mātou.