'We all play by a set of rules – we look to see who has the biggest, who has the best and who's most important,' said Archbishop John Dew during his homily to a large group of teachers and support staff from schools and colleges in the lower North Island last month.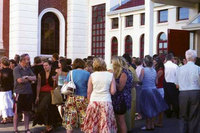 They had gathered for the Commissioning Mass to start the year. Archbishop John reminded them that, 'Jesus invites us to look at the world in a different way, a little bit like Alice in Wonderland who fell down the rabbit's hole and found herself in a world where her ideas and understanding were continually challenged. Jesus asks us to live in a whole new world – to see and hear and respond in different ways. If you want to be first, then be last. If you want to win, then lose. If you want to be served, then serve. If you want to be mature, then be a child.
Jesus goes to show us how important and valued children are. Yet in New Zealand many children are not valued. Our child safety record is poor.'
Archbishop John went on to thank those who work in Catholic schools and for the ways they show that our children are important. He then said that, 'Catholic Schools show us that we can see things differently, that like Alice in Wonderland falling into the rabbit hole we see life …with the eyes, ears and mind and heart of Jesus.'
He reminded us from the gospel of the day (Mk 9:30-37) that Jesus took a little child, set him in front of them and put his arms around him and he said to them, 'Anyone who welcomes one of these little children in my name, welcomes me.'
Archbishop John reminded all present that, 'You welcome children in the name of Jesus – you do the same as he did – welcome, bless and value. Thank you for all that you do in the name of Jesus – in the name of the Church.'
He finished by sharing a prayer reflection he had recently heard in a staffroom:
'A great debate broke out within a group of people. Who was the greatest teacher? Three people put an end to the debate with the following.
A young woman said: 'The greatest teacher has no face and no address, yet this teacher is well known and lives everywhere.'
A young man said: 'The greatest teacher has no eyes yet can see your gifts and potential.'
A parent said: 'The greatest teacher has no hands yet can shape and leave deep impressions.'
The other members of the group spoke up and demanded: 'Who is this teacher?'
The three replied: 'The greatest teacher is love.'
The teachers and support staff continued the celebration afterwards in the piazza in front of the cathedral.