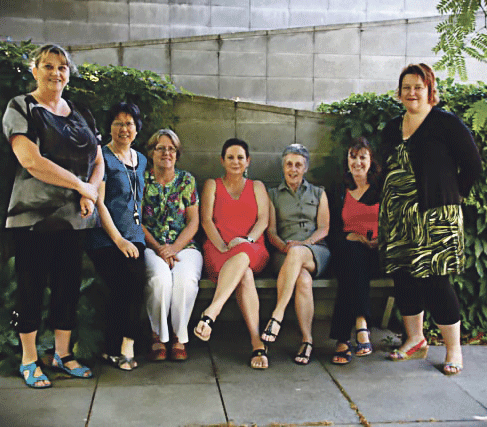 February 2015
Feature
Catholic Social Services in action
Lesley Hooper, Director of Catholic Social Services for the Archdiocese of Wellington
As we start 2015 we can look back over 60 years of Catholic Social Services (CSS) supporting the poor and vulnerable in our communities. The call of the gospel is a still as strong today to 'love one another' (John13: 34) by 'providing food for the hungry; give water to the thirsty; welcome the stranger, clothe the naked; care for the sick and visit the prisoner' (Matthew 25: 35,36).
In 2014 we were reminded over 200,000 New Zealand children live in households that rely on income from benefits; that children in poor households are more likely to grow up with poor health and fewer opportunities. As a result New Zealand is now one of the lowest ranked countries for child wellbeing, health and safety among the wealthy countries in the OECD.
On a daily basis CSS sees the impact that inequality has on people on very low incomes. Our counsellors and social workers in 2014 supported approximately 500 individuals and families. They helped with finding appropriate housing, accessing the right benefits, and working with people to deal with issues such as depression, self-esteem, relationships, anger management.
One of our social workers took part in the Auckland Benefit Impact project in August. She was among a large group of benefit advocates from throughout New Zealand who volunteered their time for three days to help over 550 people access benefit entitlements from Work and Income. For many, their needs were basic such as beds, washing machines, fridges and medical-treatment costs.
We have worked alongside the Night Shelter, Soup Kitchen and Downtown Community Mission to support people living on the streets of Wellington and we are part of the Street Outreach Service, which in August took part in the first ever count of those sleeping rough in the streets. The aim was to connect homeless people to social services and to provide information to help services to get resources to people who need them.
We have also taken part in workshops on the Te Mahana: Ending homeless in Wellington strategy led by the Wellington City Council.
As we focus on our work for 2015 we are reminded of Archbishop John's opening statement for 2006 Synod: 'Being there for those in difficulty, for refugees and migrants, the poor and the lonely, for the victims and perpetrators of violence and abuse, is a non-negotiable requirement if we are to be faithful to our vocation to be at the service of the world.'
This year we will be working with the Salvation Army and the Refugee Family Reunification Trust to support refugees and their families; we'll continue to be part of the Street Outreach programme and ensure adequate housing for those who come to us in need; we'll be working with similar agencies on the Government's proposed changes to social housing; and we want to keep reducing family violence by working with offenders and their families to bring positive change.
Our work today is as important as it was in 1955 when Catholic Social Services started. Our staff are totally committed to being there for the many vulnerable people who come to us for help and support and we are ever appreciative of those who provide financial support to enable us to do this work.
How you can help CSS
Our work requires funding. We are dependent on the goodwill of the community and on assistance from various governmental, community, religious and archdiocesan grants, philanthropic trusts and Lotteries New Zealand. Some clients make donations towards counselling costs but many are unable to contribute and we don't expect them to. We don't turn anyone away.
Funding for our work is also greatly helped by the 450 members of our '1000s club'. Our aim is to have 1000 members donating $100 a year.
Another important source of funding is our Street Day Appeal, held on the last Thursday of February. Each year we reach out to the people of Wellington to donate money and we will be out collecting on Thursday 26 February. Last year we collected about $10,000 to help fund our counselling and social work services.
The more collectors, the greater the presence and the more money we can raise. If you would like to help keep our work going you can join our 1000s club and commit to donating $100 annually, make a one-off donation or give one hour on 26 February to collect somewhere in Wellington for our Street Day Appeal.
Call us on (04) 385-8642 or email us on reception@wn-catholicsocialservices.org.nz if you would like to help.