Catholic Thinking presents a range articles about theology, mortality, ethics and faith heritage written for WelCom by lecturers from New Zealand's Catholic Tertiary Education providers: Good Shepherd College – Te Hēpara Pai and The Catholic Institute of New Zealand – Te Pūtahi Katorika ki Aotearoa. This month's article is by Fr Kevin Waldie sm of Good Shepherd College, Auckland.
---
Biblical Compassion: the key to our lives
As a Catholic, priest and biblical scholar words are my life. Many are sacred because they link me into my rich religious tradition and give meaning to my presence in this world. By their nature words connect us as thinking human beings. They are therefore precious bearers of meaning. They play a big part in everyday conversation reaching out to and touching another's soul or in formal speech that informs, proclaims or teaches something to stimulate the mind and heart.
At present in New Zealand certain words have become overly popular. This leaves us with much to think about, most especially as forces are at work to liberalise specific laws. Crucially, a rightly-oriented respect for all forms of life, from its beginning to its end, will have to concern us greatly. The language of popular debate is now largely secular in nature. And, in light of that, we surely have a responsibility to step up and challenge a growing culture that, by its practice, pays little attention to the core biblical ideals of marriage and family life. For it is in a proper understanding of human relationships that we truly come face to face with whatever it is that binds us together as family or community. Biblical compassion boldly aligns itself with this attitude to life.
Despite what we may imagine biblical compassion to be it is not some purely emotional reaction. Rather it generates a genuine and generous response to another human being's suffering caused by those who possess no real sense of kinship. Compassion is not pity, or mercy, or sympathy, or empathy. Compassion is a deeply felt urge that moves a person to reach out and help a fellow human being, to change that person's life for good. Compassion therefore recognises another's need, even if we are at risk of being abused, maligned or judged unjustly.
"Compassion is a deeply felt urge that moves a person to reach out and help a fellow human being, to change that person's life for good."
Luke's gospel provides us with a treasure trove of characters and stories that show us what true compassion is. A few examples from Luke can quickly illustrate the point. His gospel begins with the birth stories of two kinswomen, Elizabeth and Mary (Lk 1-2). It is their children who, by their words and deeds, will reveal the way of compassion willed by God to be practised by every believer. This early focus highlights the gift of motherhood and the exemplary love that it mirrors. John and Jesus, the fruit of their mothers' wombs, come centre-stage in Luke 3-4. And it is particularly in the Nazareth Synagogue scene (Lk 4:16-30) that Jesus spells out his programme of compassionate ministry. It is a mission that offers everyone a hope-filled future, abounding in varying forms of release, grace and blessing.
"The Spirit of the Lord is on me, because he has anointed me to proclaim good news to the poor. He has sent me to proclaim freedom for the prisoners and recovery of sight for the blind, to set the oppressed free, to proclaim the year of the Lord's favour." – Lk 4: 18-19
Echoes of that programme are plentiful in Luke's gospel narrative. But it is best signalled by certain key moments in it. The Sermon on the Plain (Lk 6:20-49), with its intense and compact presentation of Jesus' words, accentuates the fact that all our life choices have to be extraordinarily and generously motivated. And sitting right at the heart of the Sermon is the golden standard by which everyone is be totally stirred up in response to others' needs: 'Be compassionate as your father is compassionate.' (Lk 6:36). This key statement with respect to fatherhood sits nicely alongside the earlier references to motherhood. It catches the essence of Jesus' programme applauded back in Lk 4:16-22.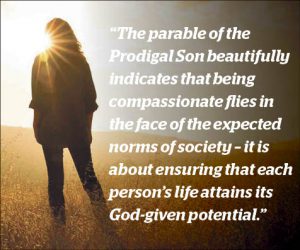 After the Sermon on the Plain Luke's gospel composition subtly heightens the impact of compassion as a key theme. Three examples (found only in Luke) act in this way, helping to define how compassion may be lived out. In Luke 7:11-17 Jesus' compassion is the reason he brings back to life the only son of the widow of Nain – a tiny family finds new life through him. In the Good Samaritan story (Lk 10:25-37) Jesus brilliantly illustrates how compassion is boundless and inspires extraordinary generosity – life is that precious gift that demands unrestricted attention. The parable of the Prodigal Son (Lk 15:11-32) beautifully indicates that being compassionate flies in the face of the expected norms of society – it is about ensuring that each person's life attains its God-given potential.
Each of the above examples shows compassion to be a state of being and action that binds people together. That is, whether it be in the context of private or public settings that speak of connection through family ties, both particular and universal. Compassion is therefore about breathing new life into those who have suffered a loss and await healing grace. This kind of compassionate embrace of other human beings comes without limits. It fundamentally reorients a person's existence and establishes good and dignified life-centred relationships.
"Compassion is therefore about breathing new life into those who have suffered a loss and await healing grace."
This understanding of compassion is not solely Luke's interest. It belongs to a long line of biblical tradition. It ties in with much of what is revealed about God's identity and the divine attributes that abound in the first five books of the Bible. Exodus 34:6-7 provides us with a classic example in the form of a refrain that is heard again and again throughout the Old Testament. God is thus praised for the standard he sets for everyone to live by. This is ancient wisdom drawing upon human experience and the obvious need to care for one's brothers and sisters. It is a wisdom that knows how society works. And its aim is to teach, as a loving parent would a child, how to build a safe and rightly-oriented community of like-minded, unselfish people. This is the formula for a society to develop its responsibilities towards family members and neighbours. It is also a call to show the world that everyday life must concern itself with a compassionate esteem for everyone's ultimate well-being.
So, as we ponder the word compassion, we should critically assess the latest wave of shallow thinking, social commentary or political gerrymandering. Now is the time to ask some searching questions. For example, if religion once supplied the basic norms for living a good, peaceful, neighbourly existence what set of values is being touted as today's code of ethics?
This is perhaps the time to re-evangelise and make compassion once again that attitude of mind that values life and will go the distance to protect it in all its forms. It is the standard by which everyone can measure the degree of generosity and genuine desire needed to make New Zealand a welcoming, wholesome society in which people of every kind can find and make a home for themselves.
Rev Dr Kevin Waldie sm is especially interested in three research areas: compassion as a key idea in Luke's Gospel; how we speak of St Paul's Damascus Road Experience; and of reading the Scriptures in the light of contemporary films.