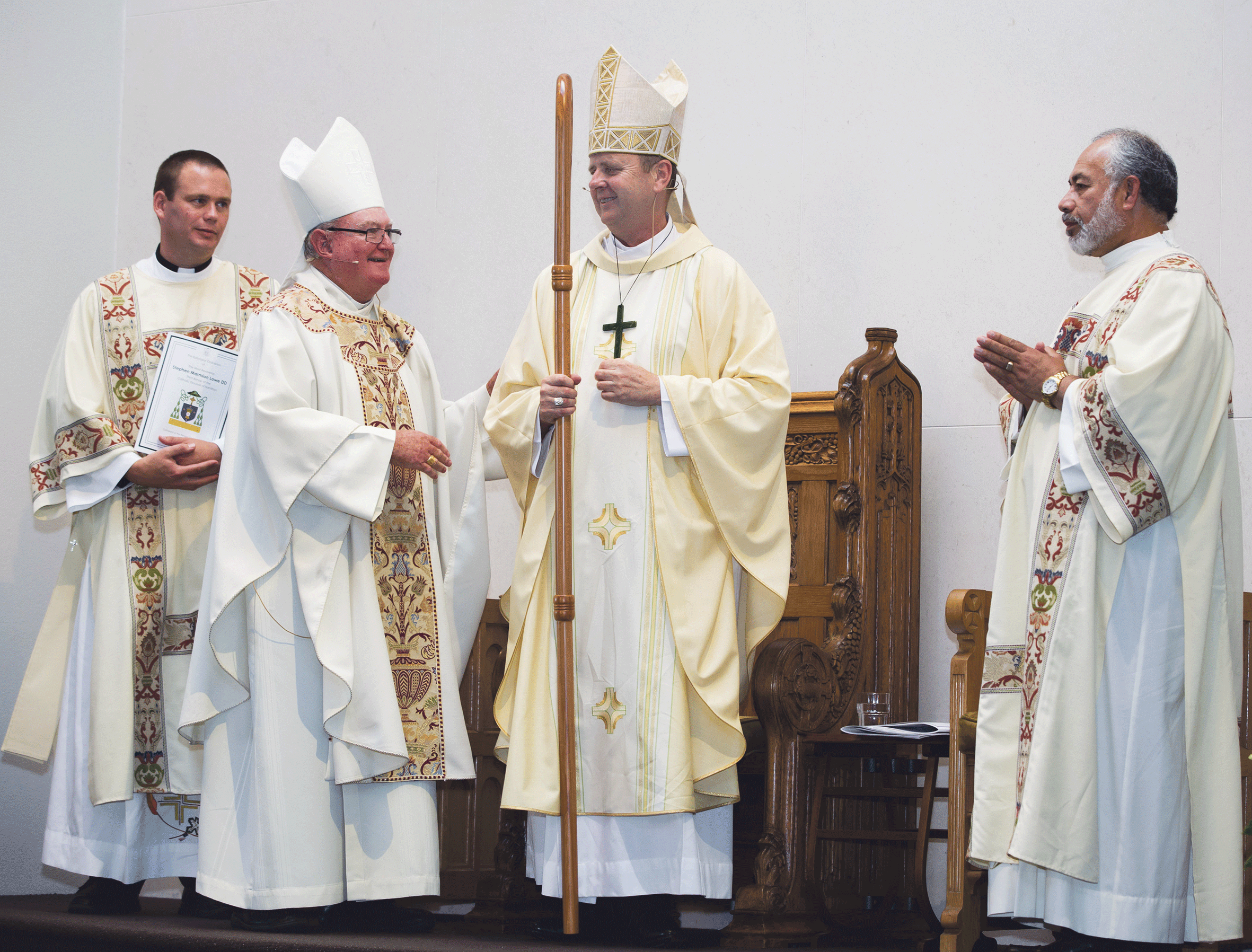 March 2015
News
Simone Olsen
Bishop Stephen Lowe was consecrated and formally installed as third Roman Catholic Bishop of Hamilton in a joyful celebration Mass on 13 February 2015 at the Cathedral of the Blessed Virgin Mary. People from Hamilton Diocese and Bishop Stephen's home Diocese of Christchurch attended.
Emeritus Bishop of Hamilton Denis Browne led Bishop Stephen to the cathedra (bishop's chair) to formally signify him being seated as a Bishop and to pass on care and responsibility.
Bishop Stephen was given the symbols of the bishop's ring, mitre and crosier – a sign of a bishop's pastoral office called to keep watch over his flock. Bishop Denis led Bishop Stephen around the Cathedral where he blessed everyone. Bishop Stephen's shield has a sheaf of wheat to reflect spiritual life and our sharing in the life, death and resurrection of Jesus Christ, and the Trinity. The surrounding stars of the Southern Cross remind us to share in the life of Christ.
The cross is the abbatial cross of Blessed Columba Marmion – an Irish monk (1858–1923) and third abbot of Maredsous Abbey in Belgium, who was beatified by Pope John Paul II and is an ancestor of Bishop Stephen. Bishop Stephen's chosen motto 'The Lord is my shepherd' invites us to be guided by Jesus as he calls us by name to the fullness of eternal life.
As new bishop of Hamilton, Stephen Lowe is a member of the New Zealand Catholic Bishops Conference, the national body for the Bishops of Aotearoa New Zealand to carry out national-level functions on behalf of the Catholic Church in this country.
Simone Olsen is Communications Adviser NZ Catholic Bishops.