Palmerston North
Darryl Daignault
6 November 2012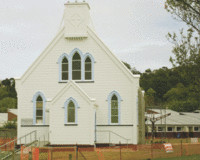 The historic chapel of St Joseph at Cullinane College has just undergone a massive earthquake strengthening refurbishment to its exterior profile.
The work, which finished on Friday October 12, will bring the building up to code.
The chapel is the old Aramoho Catholic church which was moved onto the grounds of the college in late 2002.
This was a huge undertaking involving coordination among a number of groups including the Whanganui District Council because power lines had to be lifted or temporarily taken down so that the building could be moved intact.
With the strengthening construction, the chapel's outer profile has been altered slightly but the aesthetic look has not changed.
Image: The St Joseph's Chapel at Cullinane College with strengthening work almost finished. The vertical buttresses are just visible to the right of the structure.