A stirring Haka Powhiri performed by Te Kura Kaupapa Maori o Nga Mokopuna from Seatoun began a memorable evening of music, song and dance enjoyed by close to 500 people of all ages.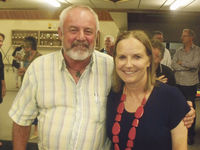 St Patrick's College hall in Kilbirnie was packed last month for the concert held to create awareness of and raise funds to support the work of Fr Tony O'Connor, a Marist priest originally from Taihape now working in Valencia, Venezuela.
Fr Tony is involved in building a school for the poorest of the poor, named Juan Claudio Colin after the Society of Mary's founder.
The audience was treated to a rich variety of acts from talented local performers, including members of the New Zealand Symphony Orchestra and Fr Tony's relative Michael Murphy, runner-up in New Zealand Idol in 2004.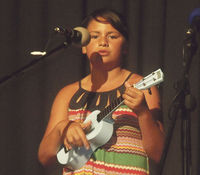 Moana Leota, the youngest performer at just 11 years, held the audience captive during her singing debut accompanying herself on the ukelele. Another young star was Gabrielle Armstrong-Scott, a St Catherine's College student who is an accomplished violinist at just 13.
Auctions and raffles boosted the takings with prize items including a soccer ball signed by the Phoenix team and a rugby ball carrying Dan Carter's signature.
Fr Tony talked briefly about the school and the difference it was making to the children living amid poverty and family dysfunction. The concert ended with almost the entire audience voluntarily joining in the well-known Macarena dance, led in style by Marita Ortiz and the Amazon dancers.
Feedback was overwhelmingly positive and Antoinette Hastings, one of the organisers, said many had commented that the show should now 'go on the road'.
While this is definitely outside the realms of possibility, the success of the event has prompted the organisers to consider holding similar events in future.
Overall, the concert raised more than $14,000 – well above the initial target of $6,000-$10,000.